Carpentry Courses
A Carpenter Apprenticeship: How Do I Get Started?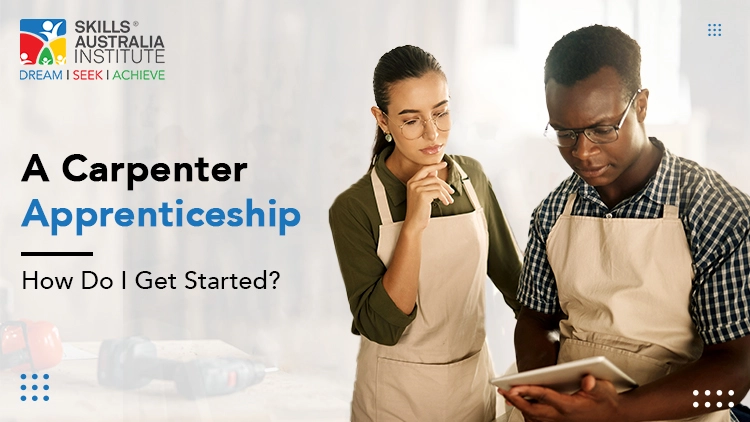 There are many good and reputed colleges in Australia where one can easily do a course in carpentry. In fact, carpentry training is popular amongst local as well as international students. This is mainly because there is a huge demand for skilled carpenters in the construction industry. Year around construction work is going on throughout Australia and hence there is no dearth of jobs in this category.
In case you are interested in doing a carpentry apprenticeship, you need to look for the best colleges in Australia. When trained at a reputed college, you get the right kind of carpentry training and you get to begin your career soon after completing the course. Before getting trained for a carpentry apprenticeship, it's important to have the right knowledge about this career path.
What do you mean by apprentice carpenter?
By apprentice carpenter means one has the right training to work as a qualified carpenter. By getting training from carpentry apprenticeship programs, one gets the opportunity to learn the required skills by working alongside fully trained carpenters and gain extensive experience to work as an independent carpenter in the future. If you wish to study in Perth, there are many colleges that offer carpentry training courses.
What are the tasks performed by an apprentice carpenter?
Carpentry basically means making different types of items from wood, plywood and wallboard. In carpentry apprenticeship, one has to perform different types of tasks, ranging from reading blueprints, taking the right measurements, cutting pieces of wood from large blocks of timber, building various types of frameworks to building different items from wood. Erecting building frameworks, roofs and floors, and fitting exteriors, doors and window frames are also the tasks of a carpenter. Along with these, one even needs to inspect damaged structures and conduct necessary repair works.
After having proper carpentry training, one can be self-employed or work in residential building construction sites as well as commercial and industrial projects.
How can one become an apprentice carpenter?
Before you start your career in carpentry, it is important to know how to become an apprentice carpenter. It takes between 12-24 months to become a qualified carpenter in Australia. There are different types of carpentry training courses available in various colleges in Australia.
Colleges even offer apprenticeships and the level of competition for apprenticeship positions to help you decide whether carpentry is the right career choice for you or not. Through carpentry apprenticeship programs, one gets to typically learn about carpentry through on-the-job training.
You can even opt for a Certificate III in Carpentry as part of an apprenticeship. This usually takes between three to four years to complete.
To do even a basic course in carpentry, one needs to have a high school diploma to enter apprenticeships. Also, one must have an immense interest in carpentry work.
To help you succeed in this career, you need to begin your preparation while you are still at high school. It is recommended to study courses like mechanical drawing, geometry, blueprint reading, physics and algebra. At the same time, solid work background can also help a lot in the future and succeed in this career path as a carpenter.
Carpentry career option in Australia
There's plenty of work for skilled and qualified carpenters in Australia. Everywhere in Australia, construction work is going on, especially in the East Coast major cities – Sydney, Melbourne, Brisbane and Gold Coast. Remember wherever construction work is going on there is a need for skilled carpenters. Hence, there will be no dearth of jobs in this career path.
Currently, 89 percent of all carpenters are working within the construction industry. Construction is a major employer in Australia. In fact, nearly 9 percent of all jobs are related to the construction industry, making it the third-largest employer.
A qualified carpenter earns $1,358 a week, on average, meaning a skilled carpenter will earn a good amount.
Can a qualified carpenter migrate to Australia?
Presently, the carpentry sector is on the Department of Home Affairs Medium and Long-term Strategic Skills List (MLTSSL). This indicates that anyone who is a qualified Carpenter is eligible for a permanent work visa to Australia.
Those who are qualified carpenters back in their home country and plan to work in Australia as a carpenter must apply for a White Card first. This can be easily done online. At the same time to work on a construction site in Australia, one also needs to undertake construction induction training. This type of training is very simple but at the same time very essential as it teaches you about safety standards in Australia.
What are some related alternative careers?
In case, a carpentry apprenticeship is not what you want to do but wish to still work in the construction industry, you can opt for construction labourers and helpers. They perform some tasks that are similar to the work of carpenters.
Construction labourers and helpers get to work on construction sites and their main task is to assist with installing drywall or performing other construction tasks. Their work is similar to the work of a carpenter as they also have to follow blueprints, make the right measurements and cut them to fit the spaces. They also need to efficiently install the items within a construction setting.
Conclusion!
If you wish to work with your hands in a career that's in huge demand, carpentry apprenticeship programs are what you need to focus on. If you wish to study in Perth, there are many colleges that offer carpentry apprenticeship related courses. There are many colleges in Australia but make sure to choose the best one. Studying in a reputed college will help to give a good kick start to your career.