Automotive Courses
Drive Your Career Forward: Discovering the Advantages of Studying Automotive Courses in Australia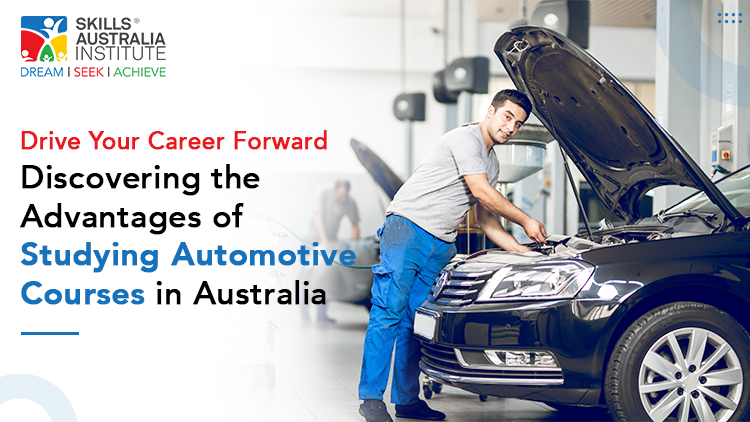 The automotive industry has always been a vital component of the economy in Australia, with numerous multinational car manufacturers operating within the country. It's an industry constantly evolving and expanding, offering numerous job opportunities for professionals with the right skills and knowledge.
As such, studying automotive technology in Australia, like automotive engineering courses, can open up numerous doors of opportunity both domestically and internationally. We will discuss the advantages of taking automotive courses in Australia. Also, the courses offered, job possibilities, and study abroad experience.
Why study in Australia?
Studying in Australia can be a life-changing experience for several reasons. Here are some compelling reasons why you should consider pursuing your education in Australia:
Australian universities are known for their high academic standards and dedication to teaching and research excellence. The country has an excellent reputation for providing high quality education in various fields.
Employers around the world recognize and value Australian university degrees. Graduates from Australian universities are in high demand due to their solid academic foundations and practical skills.
It provides a variety of study opportunities and courses in a variety of disciplines. You'll find several possibilities to meet your interests and career aspirations, whether you're interested in business, engineering, healthcare, the arts, or technology.
Australia is well-known for its excellent level of life, safety, and high-quality healthcare. It provides a vibrant and diverse lifestyle with a wonderful blend of urban and natural environments, allowing you to discover gorgeous beaches, breathtaking vistas, and historic sites.
Automotive Courses Available for Study in Australia
For students who desire to improve their education and career in the automotive business, Australia provides a diverse range of automotive courses. Certificate courses are intended to offer students a theoretical and practical understanding of the automobile sector.
The auto mechanic certificate course is famous for students who want to work in the automobile industry. This course is meant to provide students with a comprehensive grasp of light vehicle operation, maintenance, and repair. The training includes car maintenance, diagnosis, repair, and how to utilize diagnostic tools. Another popular course is the Diploma of Automotive Management which provides students with a broad range of skills and knowledge related to the automotive industry.
Career Prospects
Studying automotive courses in Australia can open up numerous domestic and international career opportunities for graduates. The Australian automotive industry is constantly evolving and expanding, with a growing demand for skilled professionals in this field. Graduates of automotive courses in Australia are highly sought after by employers both within Australia and overseas.
Completing an auto mechanic certificate course opens up diverse career opportunities. After completion, you can pursue roles as mechanics within car dealerships, where they can specialize in servicing specific brands or models. They may also find employment at repair shops, providing maintenance and repairs for light vehicles. Alternatively, individuals may leverage their skills and knowledge to establish their own independent repair business, offering customers a wide range of mechanical services. These career paths offer a dynamic and rewarding future in the automotive industry.
Top Cities To Study Automotive Courses in Australia for International Students
Studying automotive courses in Australia is an excellent option for international students seeking a quality education and improving their career prospects. Studying in Adelaide and Perth offers students a unique and enriching educational experience in vibrant Australian cities. These cities provide a supportive and conducive environment for students pursuing their academic and career goals. SAI, with campuses in Adelaide and Perth, is renowned for its commitment to providing practical, industry-focused education.
While one study in Adelaide and Perth, Students can interact with people from different backgrounds and gain a broader perspective on global issues. The cities offer various social and recreational activities, including festivals, art exhibitions, and sporting events, creating a well-rounded experience beyond the classroom.
Adelaide and Perth are also known for their strong economies and growing industries. Students can take advantage of the job placement opportunities offered by local businesses and organizations by studying in these cities.
The cities' vibrant communities, strong economies, and excellent infrastructure contribute to an environment conducive to learning and personal growth.
Conclusion!
Studying automotive courses in Australia offers numerous benefits for students looking to further their education and career in this field. These courses in Australia cover various topics related to the automotive industry, providing students with theoretical and practical knowledge. Studying in Australia also allows international students to gain practical work experience through work placements, improve their language skills and experience a new country and culture.