Early Childhood Education and Care
An Overview About The Average Salary Of A Childcare Worker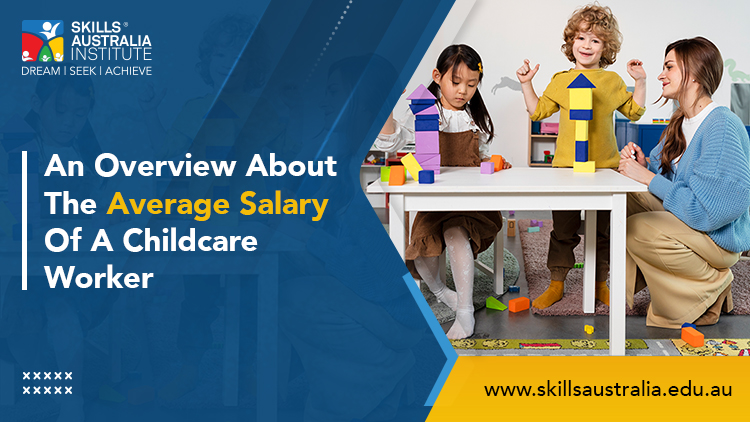 As a childcare worker, you play an important role in the development and care of young children. You help them learn and grow, and in return, they provide you with plenty of laughs and memorable moments. But what is the average salary for a childcare worker?
The most important factor that determines the salary of a childcare worker is experience. Someone with years of experience working in a daycare or other child-care environment will likely earn more than someone just starting out in the field. One very crucial thing is the location. Jobs in large metropolitan areas typically pay more than those in rural areas.
In this post, we'll take a look at the average salary for a childcare worker, as well as some of the factors that can affect it. We'll also provide some tips for how to maximize your earning potential.
What is the yearly remuneration of a childcare worker?
How much money do childcare workers make? Typically, childcare workers make between $20,000 and $25,000 a year. However, there are a few things that can impact how much a childcare worker makes. For instance, their level of experience and the state in which they work can play a role in their salary.
The average childcare worker's salary is:
Childcare salary (Leader) – $36,883 – $53,211
Child Care / Day Care Assistant – $36,536 – $52,008
Nanny – $31,168 – $53,713
Child Care Centre Director – $49,386 – 76,417
What Are the Hours Like?
The hours can be long and demanding, but many childcare workers find the work rewarding. Childcare workers may work early in the morning before children arrive at school or late in the evening when they are getting ready for bed. They may also work on holidays. Most childcare centers are open year-round, so workers usually have two weeks of vacation time.
What Are the Duties of a Childcare Worker?
Childcare workers are responsible for caring for and supervising children, as well as planning age-appropriate activities and meals. They often work long hours, especially during the summer months when parents need to care for their kids while they're at work.
What Is the Most Rewarding Part of the Job?
According to childcare workers, it's the sense of joy and satisfaction they get from helping children learn and grow. They love being able to form close relationships with their students and witnessing their development firsthand.
Additionally, many childcare workers report that they love the feeling of being a part of a team and working together towards a common goal. They also appreciate the flexibility of the job, which allows them to balance work and family responsibilities.
Are There Any Challenges?
There are a few challenges that come along with being a childcare worker. According to PayScale, the average salary for a childcare worker falls between $19,000 and $39,000 per year. While this may not seem like a lot, keep in mind that it's often a challenging and demanding job.
In addition to dealing with cranky kids, childcare workers often have to handle frustrating parents and manage difficult behavior. They also need to be able to stay calm in chaotic situations, as well as be organized and patient. It's definitely not an easy job, but it can be very rewarding.
Perks of the Job?
So, what are the benefits of working as a childcare worker? Aside from the obvious—being able to work with kids and make a positive impact on their lives—there are a few other key benefits.
For one, childcare workers typically have flexible hours, which can be a major plus if you have other commitments or like to work a few hours here and there. They're also often exempt from paying income tax, which can be a big help when it comes time to file your taxes.
And finally, one of the best things about this career is the opportunity to earn a good salary. The average daycare worker's salary is around $25,000 per year, but with experience and additional training, you could easily make more than that.
Careers in childcare
Certified Child Care Workers at the guide see these education requirements:
High school degree. At least two years of compassionate care experience. Board certification in Oriental Medicine is a plus but isn't required.
Studies reveal childcare workers earn less than 20% higher in hourly wages than the average person, once other factors like experience and location are added to the job. 134 years of childcare experience have taught the average worker that hiring a new candidate could potentially be more expensive because of the experience a female worker has.
As a result, childcare jobs are often held by college graduates with degree-heavy majors in psychology and sociology. So do yourself a favour and look for positions that are specifically related to your child care program. Should you ideally be going to school or have college options that align with a career in child-care, you can opt for early childhood education in Australia.
General degree programs may lead you to jobs as school counsellors and psychologists helping at counselling centers or play groups. They may also spur you towards jobs as a case manager, therapist, and other healthcare professionals working with children.
To be successful in childcare or child-care. You should also handle this job effectively. So you need to be up to speed with these topics:
Handling transitions
Food allergies and special needs
Speech, language and developmental delays.
Focus on extracurricular activities
Giving them the relaxing time
Conclusion
With the above points and references, we can conclude that there are many opportunities for the childcare worker and the salary provided for various roles in childcare is fulfilling. After getting this information, if you are ready to make a rewarding career in this field, then you can enrol in child care courses at the top colleges in Australia. These college courses help you become a professional childcare trainer and provide a handsome salary package in the childcare industry after completion.