Early Childhood Education and Care
Exploring the Importance of Certificate 3 in Childcare in Today's Education Landscape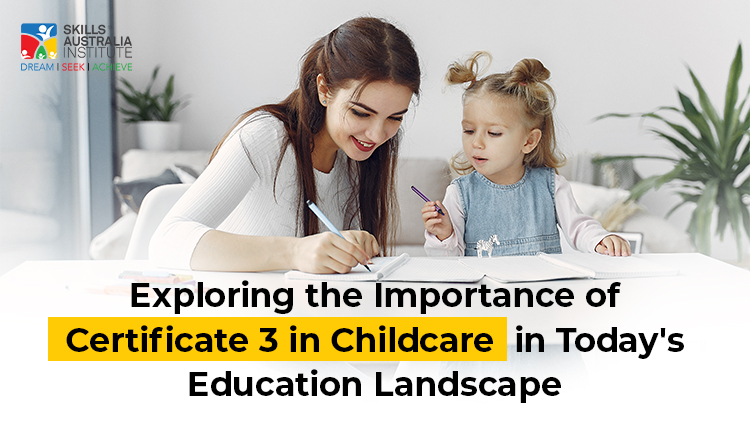 In today's rapidly evolving educational environment, the significance of early childhood education is not an overstatement. Early childhood education builds the foundation where a child can be successful, and also determines the child's future development. During these formative years, children develop crucial skills, attitudes, and behaviours that will impact the rest of their lives.
Owing to Certificate III in Early Childhood Education and Care, these crucial years are nurtured, educated, and safe. This blog discusses the significance of Certificate 3 in Childcare, its role in defining high-quality childcare services, and the reasons to obtain this certification at the right institution.
Understanding Certificate 3 in Childcare
The Certificate 3 in Childcare, also known as the Cert III in Early Childhood Education and Care, is a nationally recognized credential in Australia. It equips people with the knowledge and skills to perform effectively in early childhood education and care situations. This certificate greatly supports young children's well-being and development, which also helps people prepare for a fulfilling childcare profession.
Core Components of the Certificate III in Early Childhood Education and Care
The curriculum for cert 3 early childhood education and care covers various crucial topics, including child development, safety and health, communication skills, and motivating positive behaviour. Additionally, it provides practical training so that students can experience childcare facilities.
Understanding child development is the cornerstone of this qualification. It allows childcare workers to recognize and develop each child's unique needs and potential. Due to safety and health modules, childcare professionals can create an atmosphere where children are protected from harm and illness.
Effective communication skills are necessary to foster trust and collaboration among parents, guardians, and children and build solid connections with them. Professionals are equipped to manage challenging situations in a supportive and productive manner by encouraging positive conduct.
The practical training component of the certification is quite significant. Students who use their knowledge in real-world settings gain experience and confidence in their abilities. People entering the childcare profession need this hands-on experience because it prepares them for the challenges and responsibilities they will face every day.
The Importance of Certification 3 in Childcare
Quality child care is crucial for children's social, emotional, and cognitive development. Some advantages of holding a Certificate 3 in Childcare include the following:
1. Ensuring Child Safety
Since certified childcare staff are aware of safety practices, accidents and mishaps are less frequent. They create a secure environment where children can grow and learn without taking unwarranted risks. This gives parents peace of mind and establishes a foundation for a child's safety and well-being.
2. Fostering Child Development
Holders of cert 3 childcare can ensure that children achieve their developmental objectives by promoting healthy development through age-appropriate activities. Because they are familiar with children's specific cognitive, emotional, and physical needs at different stages of development, they can provide tailored care that maximises each child's potential.
The job of childcare providers significantly impacts children's social, emotional, and cognitive development. Holders of Certificate 3 in Childcare are qualified to give knowledge and skills to children in a supportive, educational, and developmentally appropriate environment.
3. The Rise in Demand for Certified Childcare Professionals
As our understanding of early childhood development grows, the importance of early childhood educators becomes more and more apparent. In today's world, there is a great need for people who are not only caregivers but also educators, mentors, and role models for the young minds they interact with daily.
One significant reason supporting this transformation is the growing understanding of the long-term effects of early childhood experiences on an individual's overall well-being.
Why Certification Matters in Today's World
In a world where information is readily available, it is crucial to ensure that those responsible for our children's formative years are updated. Natural affection for children is no longer enough; professional training and certification are now necessary. Certificate 3 in Childcare shows the holder's dedication, expertise, and ability to shape the future.
1. Economic and Social Impacts
Investment in early childhood courses has positive economic impacts, as is becoming clear. Children who are well-cared-for and well-taught during their formative years are more likely to succeed academically, require fewer remedial courses, and contribute positively to society as adults. Because of this, qualified individuals with credentials like Certificate 3 in Childcare make a significant contribution to societal advancement and economic growth.
2. Ensuring Holistic Development
Today's early childhood programs place more of an emphasis on entire development than just academic preparedness. This includes encouraging a child's social, emotional, physical, and cognitive growth. With the complete training Certificate 3 in Childcare provides, professionals can better foster each stage of a child's development, ensuring that they develop into well-rounded people.
3. The Role of Technology in Childcare Education
Technology has had a tremendous impact on how children interact and learn. The ability to incorporate technology into learning while preventing its replacement of traditional play and interactions is a skill that caregivers must possess. Certificate 3 in Childcare's broad curriculum guarantees that professionals can strike the right balance.
Pursuing Child Care Courses in Australia
Australia is renowned for having a top-notch educational system regarding early childhood education and care. Getting a Cert 3 in Early Childhood Education and Care in the best training colleges in Adelaide, Australia is a wise decision for various reasons.
Comprehensive Curriculum
The Certificate III in early childhood education and care Adelaide offers a complete curriculum that complies with industry standards. Students receive up-to-date knowledge and practical skills. A curriculum that combines academic and practical instruction allows students to apply what they learn in childcare settings.
Access to Diverse Learning Resources
Colleges in Australia give students access to a wide range of resources, including cutting-edge facilities and competent instructors, to deliver a well-rounded education. The instructor's practical experience improves the learning atmosphere. Internship and practical training opportunities are regularly available to students, and both are essential for acquiring practical skills.
End Note
The general public is starting to understand that a child's first few years of life affect their future path. As a result, there is now a bigger need than ever for trained, enthusiastic, and licensed childcare workers. As education and care become one, this child care certification acts as a beacon for excellence and commitment in early childhood education.