Automotive Courses
How the Diploma of Automotive Management Prepares You for Modern Auto Business Challenges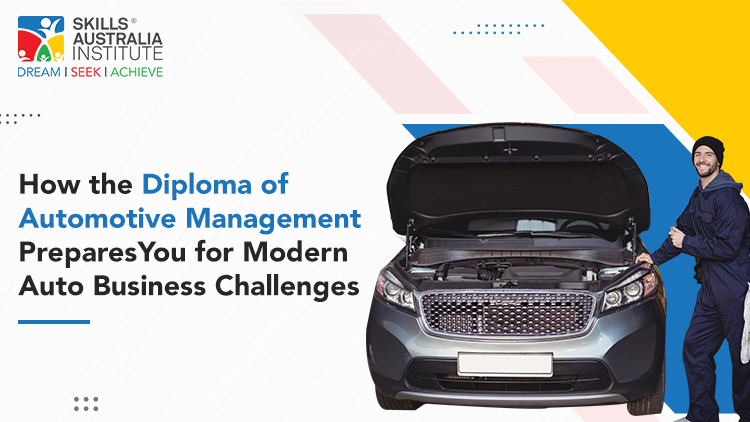 A Diploma of automotive management is considered to be the most sought-after professional qualification in today's business world. The diploma comes with a wide range of modules in automotive management like sales management, marketing management, finance management and operations management.
The Evolving Landscape of the Automotive Industry in Australia
The auto business is ever-changing, so professionals must remain current with the newest trends and challenges. The automotive industry in Australia is not just about vehicles; it's about staying at the forefront of change and steering toward a future defined by innovation and sustainability. The diploma of automotive management gives you the talent to make smart decisions and are available with creative solutions.
Key Components of the Diploma of Automotive Management
The Diploma of automotive management Adelaide consists of three key components essential for a successful career in the automotive industry.
• Comprehensive Course Modules and their Relevance
The diploma program offers comprehensive course modules that cover a broad range of topics associated with the automotive industry. These modules cover topics like automotive engineering, Business Management, Customer Service, and Industry Regulations, allowing students to realize a comprehensive understanding of automotive management and equip them with the required skills to achieve their careers.
• Practical Exposure and On-the-Job Training
Additionally, the program provides hands-on training and internships, allowing students to hone practical skills, solve problems, and gain industry-specific knowledge.
• Engaging with Modern Automotive Technologies
Furthermore, the program offers networking opportunities and, therefore, the opportunity to gain knowledge from experienced professionals. Finally, the program emphasizes the necessity to remain aware of the newest automotive technologies, including Hybrid and Electric Vehicles, Autonomous Driving Systems, and Digital Diagnostic Tools.
Tackling Real-world Automotive Challenges
In the dynamic realm of automotive engineering, facing real-world challenges is an integral part of growth and innovation. This program equips students with the skills needed to navigate these complexities effectively. Here's how:
• Addressing Customer Needs in a Digital Age
As the digital age continues to revolutionize the automotive industry, companies need to prioritize customer needs. Consumers are increasingly demanding convenience and personalized experiences, and automotive companies are responding by investing in digital solutions.
• Strategies for Efficient Inventory and Supply Chain Management
These technologies enable customers to browse, purchase, schedule service, and access vehicle information. Automotive companies can use data analytics, AI, and automation to watch inventory levels, forecast demand, and streamline logistics. This not only increases customer satisfaction but also helps companies remain competitive during a rapidly changing market.
• Adapting to Environmental and Regulatory Changes
As environmental issues and regulations get more and more complicated, car companies have to continue with sustainability goals and meet stricter regulations.
• Tackling Globalization and Diverse Market Demands
In a globalized market, automotive enterprises face diverse demands. Uncover strategies to navigate globalization, tailoring products and services to meet the diverse needs of international markets.
• Navigating Supply Chain Disruptions
These strategies include diversifying suppliers, having contingency plans in situ, and investing in technology for risk assessment and mitigation. By proactively managing supply chain disruptions, companies can minimize production disruptions, keep customers happy, and maintain business continuity.
• Customer Relations and After-sales Service Enhancement
Building strong customer relationships and improving after-sales customer service is important for automotive companies to create customer loyalty and increase repeat business. Companies are investing in CRM systems, training for sales and repair personnel, and active communication channels.
By responding to customer concerns, offering added value, and building long-term relationships, automotive companies can't only increase customer satisfaction but also boost brand reputation and word-of-mouth referrals.
• Adapting to the Rise of Electric Vehicles
Electric vehicles are getting more and more popular, and car companies have to continue. They have to take a position in research and development, build more charging stations, and confirm people realize the benefits of EVs. They also got to work with electric utilities to find new ways to charge and use energy better. Automakers must stay before the sport and confirm they will meet the demand for sustainable transportation.
Skills Gained from the Diploma of Automotive Management
Earning a Diploma of Automotive Management isn't just about a certificate—it's about acquiring a valuable set of skills that will drive your success in the automotive industry. Here's a glimpse into the skills you'll gain:
• Strategic Planning and Decision Making
Explore the art of strategic planning and decision-making tailored for the automotive sector. Develop skills to navigate complexities, make informed decisions, and steer automotive businesses towards sustainable growth.
• Efficient Operations Management in Automotive
Through strategic planning and decision-making, students are ready to identify market trends and ideas. By effectively managing resources, graduates can maximize profitability, reduce waste, and maintain customer satisfaction.
• Leadership and Team Management in the Auto Sector
Furthermore, the diploma focuses on leadership and team management abilities, which are tailored to the automotive sector. By mastering these skills, students can make sure that their team is functioning towards a shared goal in which they're providing excellent service to customers.
• Efficient Resource Management for Automotive Businesses
A Diploma of automotive management requires graduates to possess various skills, including resource management, risk management, and problem-solving. Resource management involves the management of monetary, human, and physical assets within a business.
• Risk Management and Problem-solving in Auto Scenarios
Problem-solving skills are also acquired through the diploma, which is used to identify and resolve complex automotive industry issues. Notify growth opportunities, as well as develop effective strategies to succeed in organizational goals.
Career Opportunities After Diploma of Automotive Management
Having automotive technician training can open many doors for you. You'll be a service manager, part manager, or head of a dealership.
As a service manager, you will be liable for keeping track of the inventory of car parts, ensuring you've got the proper ones once you need them, and staying in-tuned with suppliers. With a DPM, you will have the talent to manage the part department, keep inventory levels up, and confirm you're saving money.
A Diploma in Automotive Management can provide individuals with the required qualifications to pursue a more senior management role, like that of a dealership head. This position would involve overseeing the day-to-day operations of a dealership, from sales and repair to finance. It would require the event and implementation of business strategies, the management of budgets, and, therefore, the management of a team to succeed in sales objectives and customer satisfaction.
Conclusion
Skills Australia Institute is the perfect college in Australia to pursue your diploma in automation management – it's in a great location with top-notch facilities. Therefore, the faculty are industry experts who bring real-world experience to the classroom. Plus, Skills Australia Institute has many internships and work placements, so you'll get the most out of your diploma.
Diploma of automotive management will offer you the talents you need to become a service manager, part manager, or dealership manager. So, if you're hooked on cars and need to figure within the industry, this is the right career. Consider reaching out to Skills Australia Institute to study in Australia and build a successful career in automotive management.