Study in Australia
Grab Your Career Dream With Our Government Funded Courses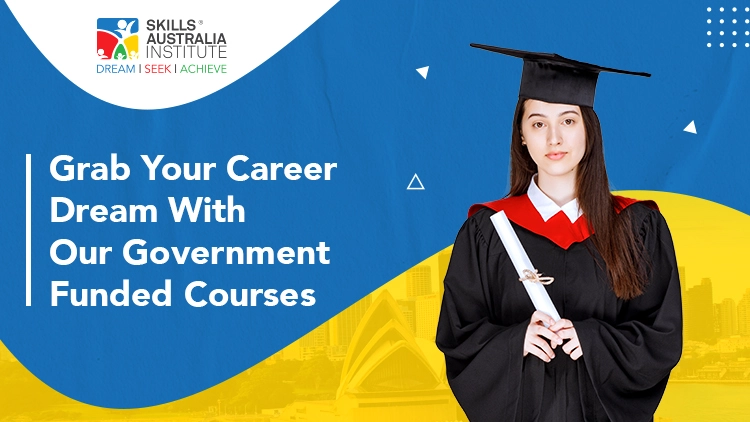 For many people, the rising education expense in Australia is a hardship. Fortunately, depending on the type of job path you wish to pursue, numerous government funded courses can assist you in learning for less or for free. The state has been urging people to look into financial possibilities to improve their knowledge and abilities to meet the market demands and potential employers.
We have got you covered! We have curated the government funded training courses, and information about them like fees, training, etc.
A Government-Funded Course Is What, Exactly?
Government-funded courses are a selection of VET credentials for high-demand professions that are financially supported to assist domestic students in covering all tuition costs.
Most financed courses are in high demand to fill skill gaps or occasionally to get ready for job growth in that field.  Australia's Ministry of Training and Capacity Building is largely responsible for managing VET funding schemes. Free and discounted programs for credentials and skill sets can both be found among the supported courses.
How Can Students In Adelaide Benefit From Government-Funded Courses?
The opportunities for Adelaide domestic students are currently unlimited. Funding is provided for qualified students who want to work in the childcare, automotive, or hospitality industries. Funded courses are created especially to support students who require financial aid. You can acquire information, reading material, and knowledge from subject matter experts at little cost.
• Funded courses help students by offering high-quality instruction at low cost and obtaining various vocational courses in Australia that are completely compatible with the job-available industries.
• Learning new specialized abilities and receiving help finding a job quickly after completing the course.
• Assisting various people from various backgrounds.
Can I Take Government Subsidized Courses?
Subsidised training is available if you live or work in South Australia and meet the following criteria:
Australian or New Zealand citizenship
Permanent visa status
Eligible VISA Holder
And
You must be 16 years of age or older and not enrolled in school, OR
A student enrolled in Year 10, 11, or 12 who is employed under a training contract that combines VET and school-based instruction, including SACE in Australia, OR
You must be enrolled in a Year 11, 12 or 13 and be 16 years old, or turning 16 years old in the current year of your enrolment, AND
Undertaking SACE or a similar program
Please note that students in their final year will have access to training in October 2022. The VET fees policy of the Department of Training and Workforce Development contains more information about eligibility conditions.
Best Training Colleges In Adelaide
Australia's Adelaide is a sizable rural community. The city offers university students a luxurious lifestyle with facilities and glitzy nightlife. Near the heart of the city are the amenities. The greatest colleges in Adelaide and many private and public universities are located there and provide bachelor's, master's, and diploma courses in subjects including commercial cookery, automotive, and childcare.
Why Pick Adelaide Universities?
Adelaide is a multicultural city that welcomes students to take advantage of its unmatched natural beauty, energetic vibe, exposure outside of the classroom, and recognized festivals and events. The city is made for habitation. In the semi-arid state of South Australia, it is the only city. The city's open design makes it easier to reach everything in it, including the nearby university campuses.
The following are some of the main advantages of choosing Adelaide universities for foreign students:
• Affordably Priced Lifestyle
Adelaide is a linked city with reasonably priced lodging and ancillary amenities. Compared to Brisbane, which is nearby, it is 7% more affordable. Adelaide is a great place for overseas students to study because rental costs are approximately 44% less costly than the national average.
• Attractions
High, opulent hills, expansive beaches, and wine regions surround Adelaide nicely. The state hosts festivals, regional and international events, botanical gardens, historic structures, lush green space, and performances. It is also known as the "Festival State." The parklands are located in the city centre, where most locals and international students hang out.
• Ten Gigabit City
Adelaide is working to become a ten-gigabit city by bringing high-speed internet access to the North Adelaide and Central Business Districts. This development will have a significant positive impact on Adelaide's universities that cater to international students. For foreign job seekers in the city, it provides prospects for financial, social, and economic improvement.
• Opportunities For Internships And Employment
By participating in internships and part-time jobs, Adelaide's universities equip its students to expand their voices, appropriate research skills, and perspectives. It is overflowing with positive events and has a high employment rate.
Which Courses At This Are Funded?
Under the Jobs and Skills SA Program, this college is pleased to offer a variety of subsidized courses from various industry sectors. Everyone can find something here! They have everything you need, whether you want to launch a new profession or hone the talents that interest you the most.
Commercial cookery, automotive training, and early childhood education are among the subjects covered in the courses. For further information, including course specifics, an estimate of cost, and eligibility conditions, see the complete list of our funded courses.
You can finish one of these courses with government financing, partially or perhaps totally, covering the cost, provided you meet the eligibility requirements.
Complete A Course With Government Funding At This College
Skills Australia Institute is one of the best training colleges in Adelaide, Australia where you can enrol in various vocational courses under government funded schemes. Enrolling in one of their courses could be the solution you're looking for if you want to maximize your job potential and develop your abilities. They take pride in ensuring that each student leaves with the knowledge and abilities required for their desired careers.
They are a hands-on education provider, assisting you with your applications, coursework, and internships to help you realize your full potential in your chosen field. There has never been a better opportunity to pick the government-funded courses offered.