Automotive Courses
Auto Mechanic Career Path In Australia: An Overview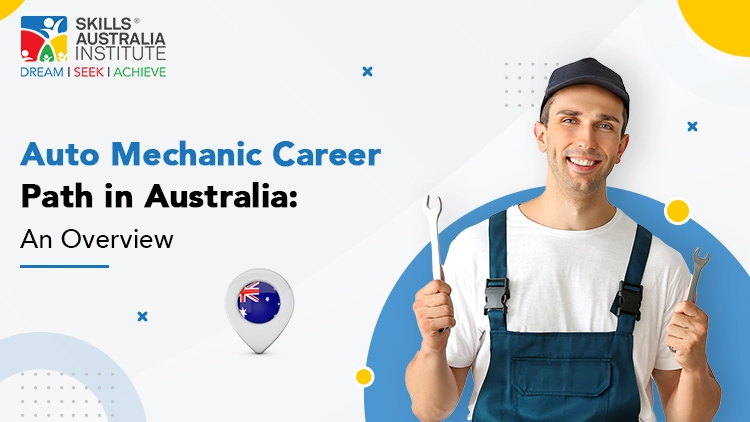 Are you passionate about cars and enjoy being around them all the time? If so, consider going into an auto mechanic course. There are many career pathways in Australia, and the auto industry is one of them.
A motor mechanic integrates mechanical components and accessories, fixes body panel dings, and tunes engines for maximum performance. Most Australian employers favor applicants with postsecondary degrees, particularly those who have earned a Certificate III in Light Vehicle Mechanical Technology.
Australia is one of the few developed nations with cutting-edge technology. Unquestionably, Australia is a great place to work. It provides skilled workers with excellent pay levels and other living amenities. What could be better than landing your ideal job in a beautiful nation to work in? Starting your career in Australia's automotive sector would be a wise choice.
How can you become an auto mechanic in Australia?
The Auto Mechanic Course Cert III/Cert IV allows you to become a mechanic in Australia. The automotive mechanic course is designed for those who want to work in Australia's automotive industry. So if you enjoy getting your hands dirty under the hood of a car, this is the course for you.
Students with this certification can do various jobs in the light auto market. At the same time, Certificate IV in Automotive Mechanical Diagnosis aids in developing these abilities. In Cert IV, learners develop in-depth knowledge of mechanics.
During your course, you will learn the fundamentals of motor mechanics. In addition, you'll learn how to identify complex problems with gasoline-powered light-duty vehicles, electronic engine management, and brake systems.
The Automotive Mechanic Cert III / Cert IV program lasts 12 to 24 months. You can qualify for this course if you want to work as a competent mechanic in Australia. This course is available in the top colleges in Perth and Adelaide.
What are the criteria for the auto mechanic course?
For enrollment in the auto mechanic course, there are some prerequisites. First, you must be an international student and meet the requirements.
To successfully register for Cert III/Cert IV in automotive course, you must:
Possess a 12th-grade diploma from your home country.
Earn an IELTS score of at least 5.5.
Possess a Visa 485 or have implemented one. Because of this Graduate Work Stream, international students can now stay in Australia after finishing their studies. With a 485 visa, you can reside for up to 18 to 24 months. You will find it simpler to finish your Cert III/Cert IV in automotive courses in Australia.
What are the steps to becoming an auto mechanic in Australia?
Your chances of being hired in the auto industry to improve as your skills and qualifications improve.
After reviewing the job description, if you are determined to pursue a career as a mechanic, the steps outlined below will assist you in directing your efforts and hard work in the appropriate direction. Many best training colleges in Perth help you with the course and choose a mechanic career path.
Step 1: Improve Your Skills
The first step to a successful career is high school. Taking classes can teach you how to use mechanics tools at work. Complete at least Year 10 with a major in Mathematics and Sciences.
Step 2: Get Licensed
In Australia, mechanics courses with a Certificate III or IV have a 70% employment rate. Most employers prefer hiring applicants with formal post-secondary credentials. For a career at the entry-level, you can enrol in Certificate III in Light Vehicle Mechanical Technology (AUR30620). The following areas of the auto industry are covered in this course:
Automobile mechanics
Engine reconditioning and fault interpretation
Agricultural Engineer
Mechanics in the sea
Mechanic for Light Vehicles
Mechanic for Heavy Diesel or Commercial Machinery
Electrical in the Automobile
Step 3: Obtain Training
People frequently inquire about how long it takes to train as a mechanic in Australia. To become a fully qualified motor mechanic, an applicant must finish a Certificate III in Light Vehicle Mechanical Technology (AUR30620) and 3 to 4 years of apprenticeship in Australia.
Step 4: Obtain Work Experience
After you've completed your training, look for automotive jobs in your area. Concentrate on getting skills as a mechanic or continuing to work with gasoline/diesel-powered machines. Continue learning new skills and knowledge while working because it will help you advance your career.
Prospects for Mechanic Employment in Australia
Mechanics are employed throughout Australia, including in rural and urban areas. Automobile dealers, auto repair shops, and vehicle service stations employ them.
Defence, communications, energy, transportation, and public works are all common employment sectors. Some work in private companies with large vehicle service fleets, testing agencies of vehicle manufacturers, and specialized companies that provide services for a particular vehicle model.
A mechanic may only sometimes be employed by a private or public company. However, auto mechanics with experience can open and manage their shops.
According to employment statistics, only 10 percent of the total mechanics in Australia are part-time workers. A mechanic who works full-time typically works 44 hours per week.
You can anticipate making $60,000 annually as a mechanic. The pay, however, is based on a mechanic's set of skills, level of experience, and job description.
The majority of the time, a mechanism must be present. There are fewer options for working remotely or from home with this job.
What are the opportunities for mechanical jobs in Australia?
The demand for mechanics is widespread in Australia and internationally, making it a sizable occupation. However, a mechanic career path can be successful if you focus on a particular area, such as electronics, engine management, or bodywork.
Electronics are a necessity for modern vehicles. This demonstrates that the demand for auto electricians and mechanics will continue to grow over the long term at a steady pace. Therefore, budding auto mechanics should be aware that this career is lucrative and offers a high employment security level.
Some of the most recent trends and developments in this field include robotics, virtual reality, AI-driven car innovations, and autonomous vehicles. You must continue to learn and stay current for a long-term career in this fast-paced industry.
Conclusion
You can follow your desire and work with the cars you're interested in by pursuing a career in auto mechanics. The road to entering this industry is challenging but attainable, given the widespread enthusiasm for automobiles and stiff competition in the sector. Before approaching potential employers, it is crucial to become qualified and skilled. It would help if you kept up your targeted efforts to realize your dream career.