Telecommunication courses
Seven Advantages Of Telecommunications Training Courses And How You Can Make Full Use of It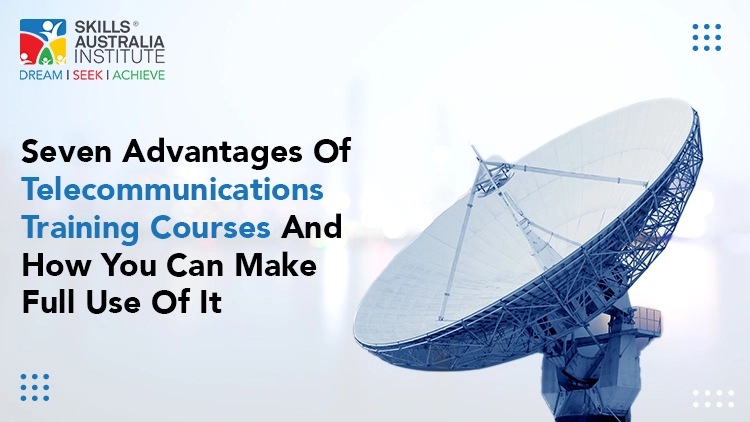 Telecommunication sector plays an important role in the overall development of a country. It affects how people connect and do business on a global scale. Communication is carried out through the internet, phone, airwaves, cables, wires, or wirelessly. To be a part of this highly demanding sector, one needs to have the right telecommunication training.
In Australia, telecommunications services are the largest sector in the Information Media and Telecommunications industry. This particular industry employing 43.7% of workers, which means this industry has a good scope of employment. This is why telecommunications training courses are very popular in Australia. Not just local students but even international students are taking admission in telecommunication training colleges in Australia.
If you wish to be part of this highly demanding sector, you need to apply for telecommunications training courses. But before you start looking for suitable telecommunications training courses, it's important to know about the advantages of these courses.
Here are the top 7 advantages of telecom training courses.
1. Learning Never Stops
Telecommunication sector keeps upgrading and hence people associated with this sector have the advantage of learning all the time. Here learning never stops. This means you get to learn new things every now and then and soon after getting admission to a telecom college in Australia.
Telecom workers are responsible for building the infrastructure on the basis of which the future digital world will be formed. New concepts need to be built and implemented from time to time. Any person associated with this sector needs to keep themselves updated with telecommunication training programs.
As one gets to learn new things, the job in this industry does not follow the same pattern and things get more interesting with time. In short, there is no space for boredom.
2. Better Earning Option
Getting a job in the telecommunications sector after completion of telecom training courses is easy as there is always the need for potential and talented employees. This means you get to earn quickly. Moreover, the salary package is also good.
On average, full-time Telecommunications Technicians earn a weekly pay of $1,655, which means a yearly salary of $86,060. This is really a good pay scale.
Most of the reputed telecom colleges in Australia help students get entry-level jobs in this sector. Also, organizations arrange a range of training programs where employees get to improve the skills required for success in a global workplace. With time one gets a promotion and a hike in salary too.
3. Variety of Employment Options
There are different types of employment options in the telecommunication sector as it encompasses several subsectors such as cable distribution, telephony (including VoIP), satellite telecommunications and wholesale telecommunications resellers to name a few.
Depending upon your interest and experience level, you can make a career in different subsectors telecommunication industry. After passing out from an education institute, you can apply for a job in positions like:
Telecommunications network planner
Network engineering technical officer
Network security manager
Database administrator
Optical network designer
Network Support Coordinator
Network Operations Analyst
Telecommunications network manager
4. Boost the Career
Due to the present skills deficit and increasing demand in the market for new talent, there are several job openings in the telecommunications sector. After the completion of telecommunications training programs, there is a huge prospect for advancement in one's career path.
From trainees to experience holders, there are job openings for different types of people having done telecom training courses. Apart from a competitive pay structure, one can start the career journey from a simple trainee to supervisor, and eventually director.
Any reputed education institute offering telecom training courses offers the students the right guidance, resources, and networking possibilities and help a lot in getting their first job.
5. The Industry is Strong
The way one communicates is continuously changing and now and then new technological advances can be seen. Right from Government to private companies are making significant investment in the sector. This has ultimately resulted in increasing demand for new talents who have the necessary knowledge for the job.
The growth and progress of telecommunications market is outstanding. The use of fixed broadband and mobile data has increased abundantly in the last ten years in Australia. The growth is even expected to stay and continue growing in the coming years. Hence there will be scarcity of new jobs in this sector.
To meet the increasing demand for new talents even the telecom colleges in Australia are upgrading their syllabus. Whatever has been taught in telecom training courses five years back has totally changed for current students to meet the requirements of the industry.
6. Highly Satisfying
Any job that you do must be satisfying. Unless you are satisfied with your job duties and responsibilities there is no scope of growth. This is certainly not true for those working in the telecom industry after doing telecommunications training courses.
First of all the way one communicates is changing at a rapid speed and hence one working in this sector must keep themselves updated. Learning and implementing new things provide satisfaction of being updated.
Also the salary average value of a telecom employee is better than employees of other sectors having the same amount of work experience. Moreover, most telecom firms prefer making the workplace more enjoyable to retain employees.
7. Bright Future
The telecommunications industry in Australia has undergone many changes but the future is still bright. Despite all the changes, there is still demand for talents in the market and everyday new job openings can be seen. The only drawback of this industry is that you need to keep yourself updated. This means learn new skills to be a part of this rewarding and challenging industry.
It is amazing to see how much the world of communication has changed as a result of the advancement on the telecom technology. Now everything and everyone is connected by telecommunications.
No matter what communication cannot stop and hence the telecom industry will never see recession. So, anyone interested to study telecommunications training courses can be assured of a satisfying career.
Conclusion:
To conclude, one having completed telecommunication training courses does not have to worry about employment. The telecom industry has seen significant changes and is still expected to grow in near future. Telecommunication is most likely the most diverse and prosperous sector today and it is a good decision to be a part of this industry. Try to do telecommunication training from a reputed college in Australia to learn everything needed to secure a job in this industry.