Early Childhood Education and Care
Top 5 Career Opportunities with the Certificate 3 in Childcare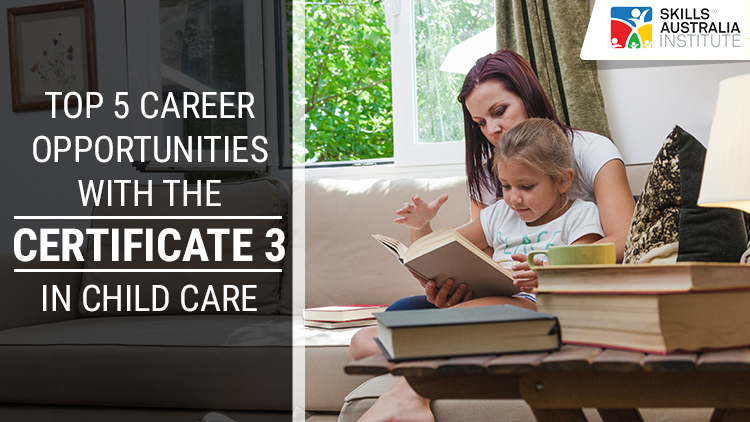 Are you a holder of Certificate III in Early Childhood Education and Care? Have you developed significant skills and capabilities that are required for child care? Are you now looking to start a career in your field? Would you like to work in one of the many childcare jobs available at present providing supervision and care for children in residential homes and non-residential child care centers, then here is everything that you would like to know about this exciting profession. Here are the top 5 career opportunities available with Certificate 3 in Childcare.
1. Early childhood Educator
Early childhood educators (ECE) are teachers who specialize in performing with young children, from toddlers to children of up to six years of age. Their role includes providing care and instruction of formal education that covers vocabulary, basic reading and writing, and developing the foundations of social interactions and ensuring the safe and clean environment for infants and toddlers. The Early Childhood Educators from Skill Australia Institute usually work in kindergartens and daycare centers, however, they may also work in community centers or even for companies that provide daycare services to their employees. Other responsibilities of an ECE include the following:
Help in preparing, planning and implementing the quality curriculum for the appropriate development of children
Use distinct teaching methods to meet each child's individual needs
Identifying any cognitive or behavioral difficulties in children to apply the necessary corrections or special methods
Observing and monitoring the progress and development of each child to ensure successful achievement of pre-established learning and behavioral goals.
The average renumerations of Early Childhood Educator related jobs is between $34000 – $80000 per year. Study in Perth and get the most of your career as ECE.
2. Play Group Supervisor
The playgroup Supervisor generally takes care of the day-to-day operation of the Playgroup and also leads a team of Playgroup staff to furnish a creative, stimulating, happy, and safe learning environment where kids can develop physically, intellectually, emotionally and socially in accordance with the Playgroup's policies and procedures. Child care courses in Perth helps you develop all these skills and abilities that enhance your career growth. Other responsibilities of a playgroup supervisor include:
Plan and work with staff to implement the Curriculum for early years foundation.
Ensure a Healthy and Safe environment for children and staff.
Submit paperwork in when required and make sure all staff paperwork meets set deadlines through good leadership and monitoring.
Adhere to the Policies and Procedures of the Playgroup
Provide an excellent level of Customer Service to parents.
The average salary of a playgroup supervisor varies between $17-$25 per week.
3. Childcare Worker
Child care workers are responsible for caring for children who attend child care centers on a regular basis. From feeding daily meals to children, managing their play activities, reading to them, to helping them learn cognitive skills are some of the important roles that child care workers held. Enroll at SAI, the best college in Perth for a perfect classroom as well as practical training for child care. Mentioned below are the other vital responsibilities:
Maintain the hygienic environment by helping children with their toilet breaks and by educating them to wash their hands properly
Supervise the daily routine of children
Prepare organized social activities to keep children occupied and develop their communication and social skills
Assist them with the play equipments
The average wages of a childcare workers ranges between $21-$25 per week, depending on the skills and experience.
4. Family day-care educators
Family day-care educators are responsible to provide a quality home-based child care services where children are cared for in a small group in the home. The other responsibilities include:
To provide and maintain safe and healthy environments for children.
To promote the physical, social, emotional and intellectual development of children.
To provide opportunities for children to develop positive feelings about themselves as individuals and in groups.
To meet the need for quality childcare.
To encourage positive and productive relationships with families.
To meet the needs of cultural diversity.
Depending on the skills and experience the average salary of a family day care educator is around $24 per week. Further, if you do a Diploma in ChildCare you may excel in this field.
5. Nanny/Educator
A Nanny/Educator is expected to take care of all childcare needs and domestic requirements, to an exceptional level usually in homes for a child of up to four years. The duties of a nanny include:
Feeding the children
Reading to them
Settling them to bed
Changing the diapers for babies
bathing them
washing and ironing the clothes of babies
planning, preparing and supervising the meals of children
cleaning and washing up after their meals
shopping for children's requirements
scheduling, coordinating and dressing them for children's activities
transporting children to school and other activities
undertaking appropriate creative activities with the children
tidying children's bedrooms and play areas
reinforcing appropriate discipline for the children
implementing daily routines
doing light housework
running errands
A nanny earns an average salary of $20.50 per hour. Think you have what it takes to be a child care worker now. Jumpstart your career by enrolling in a Certificate 3 in Childcare courses that are designed to further prepare you for the jobs mentioned above.