BUSINESS & MANAGEMENT
What are the Best Diploma Courses in Perth for International Students?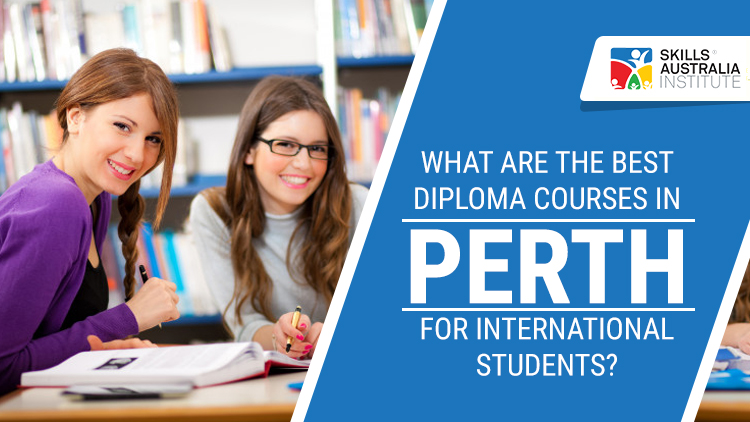 A diploma awarded by schools is an academic document which shows skill in a given area. Usually, a diploma is gained after successfully accomplishing extensive coursework on a specific subject or in a specific academic course. Executive professionals returning for secondary education want to pursue a diploma to enhance their career prospects. Current middle school graduates can choose a diploma for admission level status in their area or can choose as a smooth transition in the continuing higher education study.
 A one-two year full-time study is usually required for the diploma. A diploma program can give valuable special skills, knowledge, and experience. Diplomas can help keep one going between secondary schools and universities, or undergraduate and graduate studies. There are many advantages for gaining Diploma courses in Perth.
Employers look for diploma holders for their performance knowledge and understanding of their area. Students can make decisions during the Training Courses Perth if they choose to start working immediately at the graduation level, or if they want to take the credit earned in a diploma program for a longer duration and want to transfer. Mostly in every academic area, there are diploma courses in Perth such as Arts, technology, humanities, natural sciences from natural sciences and all other subjects.
In the course, there are specially designed diploma programs designed to equipped students for employment in that area. For example, an Applicant can choose to receive an undergraduate diploma of early childhood education and care, an advanced diploma of hospitality or a two-year diploma in hotel and tourism management courses.There are various types of diplomas – diploma, advanced diploma, graduate diploma and PG diploma. What to do with the pre-condition for the study of difference.
Diploma of Hospitality: The hospitality area is growing rapidly and it is the right time to study the skills necessary to start a career with a lack of skills across the industry and gain the benefits. During the diploma of hospitality, you will find your fully prepared training bar and restaurant, in various learning environments including the real world workplace and in front of our training hotel. The Diploma of Hospitality combines study with registered business units at the national level, which provides you with the skills and knowledge to be rich in Hospitality.
Diploma in Business:  The Diploma of Business is a steady course that includes academics knowledge and factual business skills that enables students to advance for a broad array of business activity and organization.  This merit is suitable for some pre-level students of business experience who want to more advancement their career and job openings in management ability. This complete course broadly provides extensive-based business knowledge and skills in business operations, e-marketing, human resource management and project and risk management sectors.
Diploma of Information Technology: Diploma in Information Technology gives ability and knowledge for a person to administer and handle information and communication technology in small to medium enterprises (SMEs) with a broad array of ICT technologies. Diploma of Information Technology is a realistic program for preparing students with the necessary skills and knowledge in information technology employment. The curriculum covers much necessary ability and understanding field needed in various IT jobs, such as software development and design, web application development, computer networking, network security and IT project management.
Diploma of Events: This Training Courses Perth has been structured with the area and academic leaders in conference and event management. With academic studies and hands-on training, the course gives a good assimilation. Students become aware with working basic details in conferences and event industries in areas such as event management and management of conferences, meetings, and exhibitions, through joint work experience course.
Diploma of Early Childhood Education and Care: The Diploma of Early Childhood Education and Care is a perfect competence for workers in children's services, who have the responsibility of planning and management of programs around childhood services while adhering to the national requirements of education and care services. If you want to work in child care, early childhood education courses will prepare you with the ability, understanding and moral features to work at an advanced level.
Diploma in Computing – Year 1: This qualification is perfect for students of six forms and school levers who have received matriculation certificates. The childcare courses are also suitable for experienced students who are presently working and want to change their careers or wish to increase their ICT expertise. In Experienced student's case, work experience and education are taken into account in addition to the O & A level. The program reveals students both theoretical and business topics and involves topics connected to web design, programming, hardware, and networking.
Diploma of Marketing: This Training Courses Perth shows the duties of a person who has a sound intellectual understanding base in marketing management and show a series of managerial skills to make sure that marketing tasks are efficiently organized in a company or business field.
Diploma in Accounting and Payroll Administration: The accounting and payroll specialist is the l necessity of every organization. The main elements of the course aim on Accounting and Payroll Fundamental Principles. The short courses Perth goes outstanding the first training and will equip you to enter the present employment market with good benefits. The program provides computer and accounting software training and demonstrates basis executive ability. The graduate student gained Diploma in Accounting and Payroll Administrator and is ready to enter the field in many roles including Teller/Clerk, Account Receivable /Payable Clerk, Beneficial/Payroll Officer, or Audit Clerk.
Diploma graduates can hope to improve their career prospects promptly as the employers believe that graduates with diplomas are more professionally familiar with important industries, knowledge, and ideas for that industry. Even students with years of experience in their area can advantage from the diploma because it proves that the holder is aware of the most advanced ways and techniques in his area.