Automotive Courses
Why Automotive Technician Is A Smart Career Choice In 2023?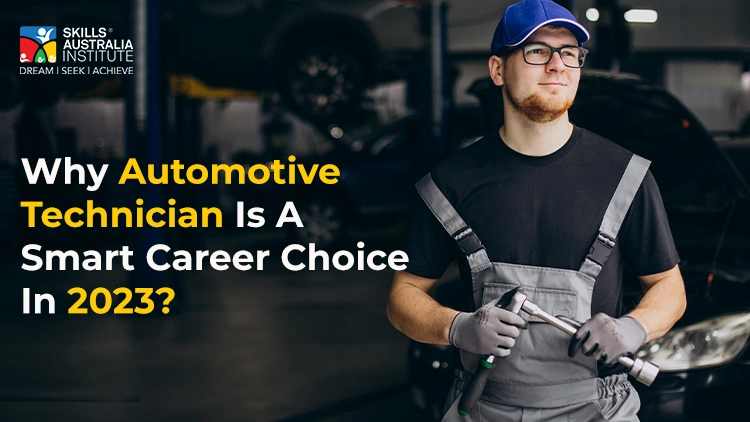 Passionate about setting your career as an automotive technician but confused if it is the right choice for you or not? You are in the right place. In this article, we will discuss why being an automotive technician can prove to be a rewarding career choice in 2023. Stick with us till the end to learn everything about automotive technicians, including the salary and courses you can learn to be successful at the job.
If you want to study in Australia, you can choose from a variety of courses of vocational education and training in auto mechanics that can turn your passion for cars into reality. An automotive technician requires regular inspection, repairing, and maintaining automobiles.
A professional automotive technician must have a complete understanding of the mechanics to explain the issues to the customers. A technician also must maintain vital communication skills to build trustful relationships with clients and customers.
What Are The Benefits of Becoming An Auto Technician?
1. Higher Future Scope
Many statistics and studies show a potential increase in salary and career advancements in the role of automotive technicians. As technology advances, mechanical and electrical systems combine to form various sets and tools for the future. This creates more advanced roles and services, resulting in higher job opportunities in the industry of automobiles.
If you are passionate about cars and automobiles, enrolling in the course now will enable you to learn about modern mechanics, including intelligent sensors, infotainment systems, parking assistance, and more.
2. Scope And Variety In Work
You will have to deal with various daily issues as an auto mechanic. However, if cars and trucks are your passion that keeps you moving, then automotive technician training will be the right program for you to choose.
3. Earn Quickly
The right auto mechanic course or training program allows you to enter the market quickly with a complete experience of 2 years compared to a college degree that takes four years to complete. The training programs are always the first choice if you want to start earning quickly as it includes apprenticeships, allowing even the school-goers to find jobs to practice alongside.
4. Higher Job Satisfaction
Suppose you are passionate about providing relief by solving challenging problems for people and keeping their life running smoothly aside from having to make modern and astonishing vehicles. In that case, getting into auto mechanic training can help you achieve that goal with enhanced job satisfaction and mental peace.
How Much Does An Automotive Mechanic Earn In Australia?
Automotive industries are among the fastest growing industries in the world, let alone Australia. For example, a professional automotive technician can earn up to $65,000 in Australia.
Among the highest-paying cities includes Perth, with salaries ranging from $73,000 per year, followed by Brisbane, Sydney, Blacktown, and Artarmon.
It goes without saying that with the right skills and techniques, and by choosing a relevant course, you can develop intellectual abilities to master the art of automotive technician and increase your potential to reach a rewarding career.
What Career Options Are Available After Picking An Automotive Training Program?
With a wide range of options and opportunities, a well-qualified technician can progress by acquiring further required certifications to reach the level of master mechanic. After that, the jobs that you can easily take up are given the following:
Auto service technician
Paint tech
Auto parts mechanic
Service Advisor
Collision tech
Collision estimator
You can further specialize in particular functions such as engine repair, heating, air conditioning tech, operating scan tools, diagnostic equipment, etc., to find more job opportunities for yourself.
What Are The Roles And Responsibilities of An Automotive Technician?
Responsibilities of an automotive technician are more than just to diagnose and fix automobile issues. If we look further profoundly, then a variety of responsibilities are performed by automotive technicians daily, some of them are listed below as follows:
Testing and repairing systems to solve mechanical problems.
Performing routine maintenance tasks such as wheel alignments, filter replacements, coolant, and oil changes.
Operating several pieces of equipment and tools to assemble and rearrange parts.
Managing the stores and supplies department to ensure optimum inventory of required mechanical parts. Consulting customers on car care issues and maintaining healthy, trustful relationships.
Various work settings allow automatic technicians to perform, such as full-time jobs, garages, car dealerships, car consultancy, etc. The work involves a lot of fumes and oils and loud noises of engines and operating systems, and the technician handles them with full precautions by keeping in mind the safety hazards.
How Can You Become An Automotive Technician?
To become an automotive technician, the most important thing you must have is the passion for fulfilling the job responsibilities with complete faith and efficiency despite doing the work to make good money. Here's how you can become an automotive technician in Australia:
Choose The Right Course For You
1. AUR30620 – CERTIFICATE III IN LIGHT VEHICLE MECHANICAL TECHNOLOGY
The course involves systematic studies of complete understanding regarding a range of tasks performed on light vehicles in the automotive industry. This course helps the aspirants to learn the basics of service and repair. A person must be 18 years or more of age with completion of high school that is 10 years of study. International students also require the completion of a language proficiency test with a minimum score that you can check out on the website.
2. AUR40216 – CERTIFICATE IV IN AUTOMOTIVE MECHANICAL DIAGNOSIS
This is a certificate course that levels up the roles and responsibilities of service and repair mechanics and provides more scope of motor diagnostic tasks. The duration of the course is 26 weeks that includes assessment and breaks. The entry requirements include the completion of 11 years of studies, or certificate III or equivalent.
3. AUR50116 – DIPLOMA OF AUTOMOTIVE MANAGEMENT
The diploma studies like such involves an individual to acquire the roles of leadership and management works in the automotive industry. An individual must have completed 12 years of education or must have acquired certificate IV to be eligible for the diploma.
Conclusion
Entering the automotive industry with a solid passion for automobiles can help you achieve an exciting career path with various job prospects and great scope in the industry. Even if you start with basic repair and maintenance work, you can build the skills and techniques to land supervisory and managerial jobs.
With good pay and maximum job satisfaction, you can master the art of mechanics to turn your ideas and concept of automobiles into more significant realities within the automotive industry.