BUSINESS & MANAGEMENT
Why Today Is The Right Time For You To Obtain A Diploma In Business?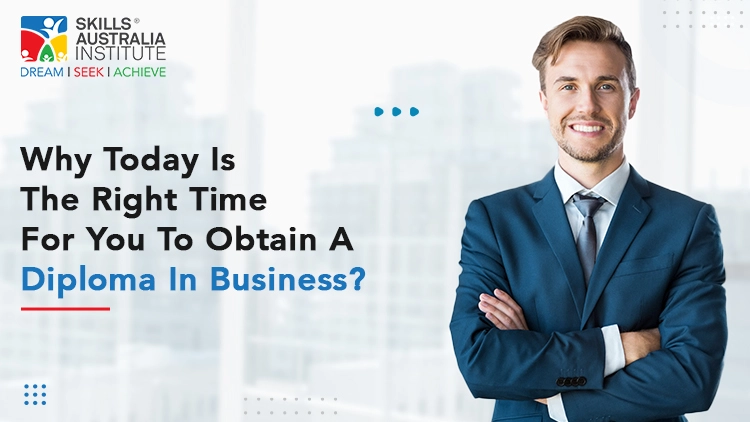 In today's generation, having proper business knowledge is very important. With the vastly changing business world, there is a huge demand for skilled workers having really good managerial skills. Having a diploma degree in business management will help you a lot in qualifying for these requirements.
So, in this article, we will discuss all the importance of going for a diploma course in business. We will also discuss why today is the right time to take the necessary steps for your business diploma course.
Management role in demand
Nowadays, more and more companies are gaining popularity in the market. As new start-ups are coming and achieving a good height, the need for managers for managing these companies at a huge level is increasing. Sometimes, getting a good manager for those companies becomes really difficult. For business growth also, there is a need for good managers. So, managerial roles will also be in demand as long as the companies are growing and the market is expanding.
So, for achieving these managerial skills, choosing good business programs will be a great option. The business program will help you in achieving good managerial skills with practical experiences.
The benefit of choosing diploma course
Going for a diploma in business management courses will be a great option as it will help you in enhancing your knowledge of business management. It will also help the students in achieving a proper understanding of business. You will find various colleges where you will find the course. Checking the college rating and past experiences of the students will be a good idea for deciding the perfect college for you.
This business management course covers various topics like marketing, operation, human resource management, finance, and a lot more. Based on your interest, you can easily select the course for you. If you are confused regarding the course, you can do research about them on the internet also. While researching, you can easily figure out whether the particular course is good for you or not.
You can even check the topics that will be taught in this course. You will find these details on the internet very easily.
You can opt for the diploma in business course from Australia also. Australia is well known for its good quality of education. Going for diploma study in Australia has various benefits as they will provide you with amazing practical as well as theoretical studies.
Your earning potential will also increase with a diploma in the business course. You can easily take leadership roles and along with that managing projects will also be very easy for you. All these things will help you a lot in increasing your earning potential. Not only this, but all these skills will create you a much better professional.
Is having a diploma degree in business worth the money?
A diploma course provides students with more practical knowledge. You can very easily upskill yourself with these courses.
If you are living in Australia, having a diploma in business leads to good salary growth. With a diploma course, you are very easily fulfilling the needs desired by the managers and this will lead to much better job satisfaction and a much better career path.
Flexible programs
For getting a good job, it is not important to follow a specific pathway. You should get into the workforce as early as you can. A diploma in management provides you with enough skills that can be used to fit in any desired position.
Companies always want well-skilled professionals for their work. In a variety of sectors, there is a need for managers like in the tourism sector, human resource sector, technology sector, etc. So, with a diploma in business, you will always have a bunch of opportunities for you.
Other skills that you will learn
While doing a diploma in business, along with learning everything related to your course, you will learn a lot of other skills also. You will learn effective communication strategies. Communication will not be a challenge for you after taking this course.
You will be able to create a good workspace for you and your employees very easily. You can easily manage the burden of projects. As you will learn everything related to finance also in this course, while doing the diploma in business course, managing budgets will also be very easy for you.
The diploma course in business has a very wide career pathway. You will find various big companies are also posting various job requirements for different managerial roles.
Can you go for an offline diploma course?
A diploma in business is available in full-time format. It will be highly encouraged to go for this course as with that you will be able to learn a lot of things. The industry experience will also be higher with this diploma in management course.
Conclusion!
In conclusion, we can say that with the growing industries, there is a huge demand for skilled business experts. Because of all this, the right time to go for a diploma in business will be now only. If you are having a good business degree, more chances will be here for you and you can easily achieve a better position in any company. Not only this, but these skills will help you in achieving good earning potential and better career opportunities.
If you are not from Australia,you can plan to go to Australia for this amazing course. You can even plan to study in Australia as Australia is having really good educational policies. Along with this, securing a job in Australia with these skills will be much easier.
So, what are you waiting for? Just go and select the best college and diploma in business management course for yourself. The exposure in this course is really high and it will boost your career to a huge extent.