Early Childhood Education and Care
Mastering Essential Skills for Acquiring a Certificate III in Early Childhood Education in Australia!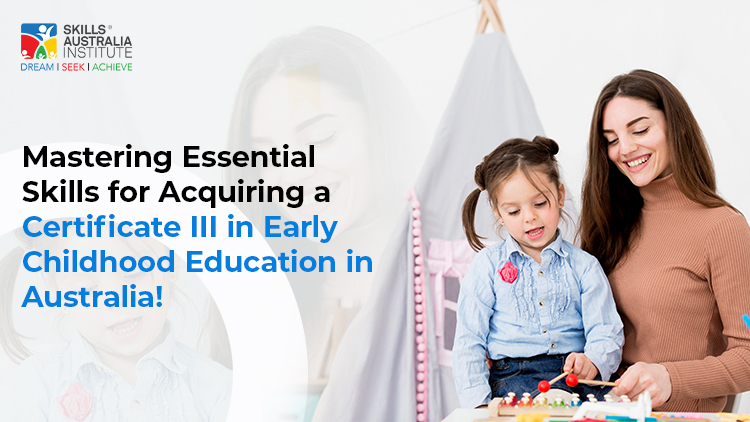 Early childhood education is a rapidly growing field, and it has great potential for those wanting to develop a career in it. Early childhood education shapes a child's future development and leads them to success. If you want to study in Australia, you can get a Certificate III in Early Childhood Education. This is a great way to get the resources and information you need to start a successful career in early childhood education. You can obtain Certificate III in Early Childhood Education at colleges in Cannington, Perth, and Adelaide.
In this blog, you'll learn the key resources you need to earn this certification and succeed as an early childhood educator.
What is Early Childhood Education?
Early childhood education is the term used to describe the education and care that children receive from birth to age 8. It includes a variety of initiatives, environments and methods that address children's development, including their physical, mental, emotional and social development. Many colleges offer programmes in early childhood education.
How can the Early Childhood Care Certification help you?
Child care training courses offer many advantages and opportunities for individuals in this field. You will benefit from Certificate III in Early Childhood Education and Care. Certificate III equips individuals with the necessary skills and knowledge to work in the early childhood education and care sector. These courses cover a range of topics like child health and safety, promoting positive behaviour in children, fostering inclusive practices, and helping children maintain healthy relationships with families and communities. Here are some reasons why one needs a Certificate III in Early Childhood Education:
• Qualifications and Assessment:
The Childcare Certificate proves your knowledge and skills in the field. With Childcare Certificate 3, you'll advance your career faster than ever. This will show employers and parents that you have special education, and you are well equipped to work with children.
• Advancement:
Earning a Certificate III will improve your job prospects and open the door to advancement in early childhood education. Many positions, such as preschool teacher, nursery director, and early intervention specialist, may require or prefer candidates with approved certifications.
• Specific knowledge and skills:
This certificate program provides the specific knowledge and skills you need to work effectively with children. It provides a solid foundation for child development, lesson planning, behaviour management and creating a positive learning environment.
• Networking:
Joining this accredited program will help you connect with other teachers, coaches and professionals in early childhood education. Certificate 3 in childcare Perth helps connect people who share the same passion for early childhood education. This can provide you with opportunities for collaboration, mentorship and professional support.
• Confidence and job satisfaction:
Completing certification will give you confidence in your abilities as an early childhood educator. Their acquisition of knowledge and skills will enable them to care for and train children and increase job satisfaction.
• Parent and community trust:
Obtaining a certificate in early childhood education can give you confidence and connect you with parents, families and communities. It will give you the confidence that you have the skills necessary to provide a safe, caring and nurturing environment for the kids.
• Expand career opportunities:
Given Australia's current youth economy and benefits, studying in Australia may be the best decision. There are many career paths in early childhood education. The certificate lets you explore such roles. You can work in nurseries, kindergartens, public schools, community projects or even start a home childcare business.
• Influencing Children's Lives:
With the Child Care Certification, like Cert 3 childcare, you can finally positively impact children's lives. By providing quality care, promoting growth and supporting learning, you can contribute to securing children's future and guide them on the path to success.
Here are the skills you will develop:
• Communication:
Effective communication is essential for early childhood education. Teachers must communicate effectively with children, their families and other professionals. This includes active listening, using appropriate language, and adapting communication according to different audiences.
• Be patient and flexible:
Working with children requires patience and flexibility. All children grow at their own pace, and teachers need to be patient and understanding when supporting them. It is also necessary to adapt the teaching plans and activities to the interests and needs of the children.
• Observation and Evaluation:
Preschool teachers need effective observation to evaluate children's behaviour, interactions and development. Teachers can carefully observe individual strengths, challenges, and interests and tailor their instructions accordingly.
• Planning/Structuring:
Planning and organizational skills are essential for creating and enabling effective learning. Early Childhood Educators must develop lesson plans, organize resources, and adjust activities according to each child's needs and learning goals.
• Creativity:
Childcare Educators should encourage creativity and imagination in their teaching. Thinking about using materials, creating activities, and specific teaching strategies can enhance children's learning and develop critical thinking skills.
• Teamwork and collaboration:
Collaboration with other teachers, support staff, families and outside professionals is important in early childhood education. Working together as part of a team, sharing ideas and communicating effectively creates a positive learning environment and supports learning.
• Child development knowledge:
Understanding child development is important in early childhood education. Childcare professionals should be aware of their physical, cognitive, emotional and social development levels to plan activities appropriate for each child's development and provide appropriate support.
• Cultural Competence and Inclusion:
Early childhood education professionals should be culturally competent and promote inclusion. Cultural awareness involves recognising and respecting cultural backgrounds, beliefs and practices to ensure that all children feel valued.
• Problem-solving:
Early childhood education professionals face many unprecedented problems. The ability to think critically, solve problems, and adapt quickly to changing situations is important for supporting children and maintaining a positive learning experience.
• Emotional Intelligence and Empathy:
Child professionals need the skills to understand and respond to children's needs. Children can feel safe and supported as they learn by developing understanding and creating a caring and nurturing environment.
By mastering these important skills, early childhood educators can create effective programs that support positive development and build a strong foundation for children's future success.
Summing Up!
Hence we can conclude that acquiring a Certificate III in Early Childhood Education in Australia opens up a world of opportunities for individuals passionate about shaping the lives of young children. This certification equips educators with essential skills and knowledge in areas such as child health and safety, behaviour management, inclusive practices, and fostering positive relationships. The benefits of obtaining this certification are manifold.
This course will formally recognise your expertise, enhance your career prospects and offer advancement opportunities. The program imparts specific knowledge and skills necessary for working effectively with children, promoting confidence and job satisfaction. Moreover, networking opportunities and connections within the field facilitate collaboration, mentorship, and professional support. By obtaining a Certificate III, educators gain the trust of parents and communities and ultimately positively impact children's lives by providing quality care and guiding them towards a successful future.