Automotive Courses
Rev Up Your Career: Exploring the Top High-Paying Automotive Jobs That Drive Success!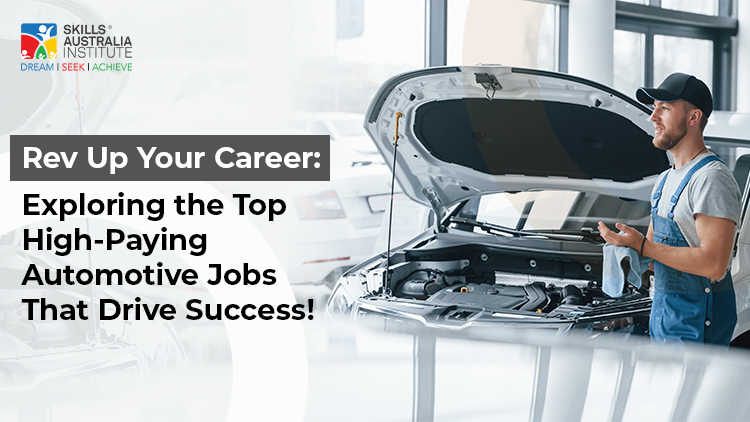 The automobile industry offers a wide range of professional opportunities, and for those captivated by cars and who want to take up automotive industry jobs, it may be a thrilling and worthwhile area. If you're looking to rev up your career and want to join some of the highest paying jobs in the automobile sector that also align with your love for vehicles, then this blog is for you. Here we will explore a number of high-paying car jobs that can help you make a fulfilling career. From engineering and design to income and management, these roles provide great earning ability and the chance to work with cutting-edge car technology.
So, let's hit the road and discover the key positions which can accelerate your professional growth.
Exploring the Top High-Paying Car Jobs That Drive Success!
Automotive Engineer:
Automotive engineers are all about designing, growing, and enhancing vehicles. They work on numerous components, including performance, safety, fuel performance, and aesthetics. With the fast development of electrical and self-reliant automobiles, automobile engineers are on high call.
This job requires a diploma of automotive management or automotive engineering courses along with sturdy analytical and hassle-solving skills. The common annual salary for car engineers, which is also considered to be one of the highest paying jobs in the automobile sector, ranges from $80,000 to $ 120,000, depending on experience and specialization.
Automotive Designer:
If you've got an ardour for aesthetics and a knack for creativity, a career as a car designer might be ideal for you. Automotive designers conceptualize and create the visible look of vehicles, both inner and out. They collaborate with engineering groups to make certain innovations while keeping up with marketplace trends.
Strong sketching and computer-aided design (CAD) skills are vital for this role. Automotive designers can earn a profit of $70,000 to $100,000 within 12 months, with the ability for higher earnings primarily based on their work and the prestige of the company.
Automotive Sales Manager:
For those with first-rate interpersonal skills and a knack for sales, turning into an automobile sales manager can be a rewarding career preference. Automobile sales managers oversee a dealership's sales team, set goals, develop advertising techniques, and negotiate deals with customers.
A robust understanding of the automotive market and the capability to construct and preserve consumer relationships are important for achievement in this position. Salaries for automobile sales managers can range broadly. However, experienced experts in high-end dealerships can earn well over $100,000 per year.
Automotive Finance Manager:
In the automotive sector, finance managers play a vital function in securing finance for automobile purchases and ensuring the economic viability of dealerships. They work closely with clients, lenders, and sales groups to arrange financing options and close deals.
Strong financial acumen, negotiation capabilities, and know-how of lending practices are vital for this position. Automotive finance managers can earn a competitive revenue, normally starting from $70,000 to $ 100,000 in a year, with the capacity for bonuses based totally on income and overall performance.
Automotive Technology Specialist:
As automobiles come to be extra superior, the want for professional technicians with automotive technician training professionals has grown exponentially. Automotive technology specialists are liable for diagnosing and repairing complex electric, mechanical, and computer systems in motors. They work with contemporary car technology, inclusive of advanced driver assistance systems (ADAS) and electric-powered vehicles.
A sturdy knowledge of automotive technology and specialized certifications are vital for this function. The average annual revenue for automotive technology specialists can vary from $50,000 to $80,000, with the capability for better profits primarily based on expertise.
Automotive Marketing Manager:
In the quick-paced car industry, effective advertising and marketing strategies are essential to draw clients and drive sales. Automotive advertising managers are accountable for growing and executing advertising campaigns, undertaking market studies, and reading customer developments.
They work carefully with creative teams, advertising organizations, and dealerships to sell automobiles and enhance them. Strong communication, creativity, and analytical abilities are vital for this role. The common income for car marketing managers varies from $80,000 to $120,000, with the potential for bonuses based on their independent performance.
Automotive Supply Chain Manager:
As the automotive enterprise relies on a complicated network of providers and logistics, green delivery chain control is vital. Automotive supply chain managers oversee the procurement, distribution, and inventory management of automobile components and elements.
They collaborate with suppliers, negotiate contracts, and optimize logistics to ensure the timely transport of materials. Strong organizational and problem-solving capabilities, in addition to know-how of supply chain strategies, are critical for this position. Salaries for automobile supply chain managers can vary from $90,000 to $130,000 annually, depending on their experience and performance.
Automotive Data Analyst:
With the technology of massive facts, car companies are more and more relying on statistical analysis to make informed business selections. Automotive data analysts accumulate, interpret, and examine big volumes of data to perceive market tendencies, client conduct, and performance signs.
They offer treasured insights to guide product improvement, advertising strategies, and operational efficiency. Proficiency in records analysis equipment, statistical modelling, and robust interest in detail are critical for this position. Automotive data analysts can earn a median profit of $70,000 to $100,000 annually, with the capacity for higher earnings in senior positions or specialized roles consisting of predictive analytics.
Vehicle Research and Development (R&D) Manager:
To be competitive in the industry, automotive companies invest heavily in research and development to improve the efficiency of their innovative products. Automotive R&D managers lead teams of engineers and scientists responsible for the development and testing of new automotive technologies and products.
They collaborate with cross-functional teams to ensure that projects meet quality, safety, and performance standards. Strong leadership, project management, and technical skills are required for this role. Salaries for automotive R&D managers can range from $100,000 to $150,000 per year, with the possibility of higher earnings in executive positions or prestigious automotive companies.
Automobile Executive:
For employees with a wealth of experience, a diploma in car mechanic courses, and a proven track record in the automotive industry, opting for an executive role in the automobile industry can offer them ultimate income and influence. Automotive executives hold senior leadership positions in automotive companies, setting corporate strategy, managing operations, and driving growth.
They are responsible for making critical business decisions, forming partnerships, and solving business challenges. Compensation for automobile managers can vary widely depending on company size, global reach, and overall performance. Executives at luxury car companies can earn as much as six and seven-figure incomes.
Conclusion!
The car enterprise gives numerous high-paying careers that cater to various ability sets and passions. Whether you're interested in engineering, layout, income or control, the automotive industry offers countless high-paying career opportunities for individuals with different skills and interests. If a student from Australia wants to join vocational courses in Perth, there are some of the best colleges in Perth, Australia, and other parts of Australia to help them kick start their career in the automobile sector. These positions not only provide tremendous earning ability but additionally provide the possibility to contribute to the innovation and advancement of the automobile enterprise.
As the industry continues to evolve with the rise of electric cars, self-driving cars, and digitalisation, these careers offer financial rewards and the chance to be at the forefront of automotive innovation. So, rev up your career and explore the possibilities in the dynamic and exciting world of high-paying automobile jobs!