Commercial Cookery
Is Certificate IV In Commercial Cookery Right For You?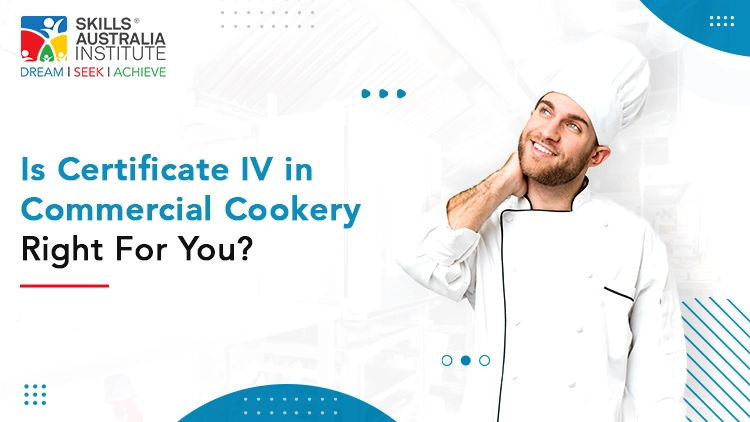 If you are interested in commercial cookery, one way to get eligible for all the commercial cookery jobs is to get a certificate IV.
Certificate IV is a training course that helps students in getting the right and desired skills for commercial cookery work. At various places, along with skills proper certificates are also important. During that time, Certificate IV in Commercial Cookery will help you a lot in getting the right kind of job.
You will get a certificate IV course in various colleges all over Australia. If you want to start your own business in commercial cookery, in that situation also having a certificate 4 will benefit you. Certificate 4 helps the concerned person in having an idea about your skills. If you are having this certificate, they will consider you a well-qualified person in commercial cookery.
So, in this article, we will discuss why certificate IV is important. We will also discuss various benefits that you will get from this certification.
Why Certification In Commercial Cookery Is Important?
Australia is growing a lot in the commercial cookery domain. As the dining business is increasing a lot, this leads to an increase in consumer demand also. According to one report, Australia will have around 16000 job openings in this sector.
In such a scenario, you can easily apply for different jobs. So, with certificate 4 in commercial cookery, you will be eligible for a lot of opportunities.
You will find various good colleges in Australia where you can learn the desired kitchen skills, managerial skills, safety procedures, and a lot more.
The Benefit of Certificate 4 Training
This Certificate IV course is a full time course. In this course, you have to spend most of your time in the kitchen. You have to do the cooking work under experienced chefs. They will not only teach you, but they will guide you also. In the training, you have to prepare various kinds of dishes like chicken, fish, meat, other kinds of dietary dishes, and a lot more.
Which College To Choose For The Certificate 4 Course
Different colleges are available in Australia for the certificate 4 course. If you are confused while selecting the best college for you, you can check for the rating of the colleges as well. It is very important that the college should have a good rating. You can ask about previous students' experiences also while selecting the best college for you.
If you are an international student, you can search for the certificate IV in commercial cookery course for international students available in different colleges. With this amazing course, you will get a better idea of commercial cooking and you will come to know about Australian cooking techniques and culture also. You can even apply for various Australian jobs after this certification.
This course is available all over Australia. You can easily go to famous colleges in Adelaide Australia for the cookery course.
Jobs Available After The Certificate IV Course
Certificate IV will help you in getting eligible for a variety of cookery jobs. If you are having certificate IV, then you are considered a qualified cook. A qualified cook will have a good understanding of commercial cookery as well as management. So, you can easily get the following types of the job with certificate IV course-
1. Managerial Job in Cookery
If you are having certificate IV, in such a scenario you are good at managerial cookery work also. Proper training is given to achieve good managerial work also. So, you can easily become a good manager or you can even start your own cookery business.
2. Chef Work
You can work for a desired position in the chef hierarchy very easily if you are having certificate IV in commercial cookery. Different types of positions are available in the chef hierarchy. The different positions available are- chef de partie, sous, and a lot more. These positions are given depending on the year of experience also.
What You Will Learn
With certificate IV, you will be trained fully for commercial kitchen roles. You will be taught different kinds of skills in this course. At the basic level, you will be taught basic cooking techniques.
After that, you will be taught about different kinds of dishes. You will be given theoretical as well as practical experience. You will be taught leadership skills in the domain of commercial cookery.
In conclusion, we can say commercial cookery is a great domain to explore if you are interested in that. Having a certificate 4 in cookery course will help you a lot in getting a desired job in Australia. Along with this, we also discussed how you can select the best college for you. Different best colleges in Australia are available which will provide you with great learning. International students can also go for the course based on their interest level. So what are you waiting for? If you are interested in pursuing the certificate IV in commercial cookery course in Australia, just go and select the certificate IV course.