Commercial Cookery
Post-Study Work Opportunities for Commercial Cookery Students in Australia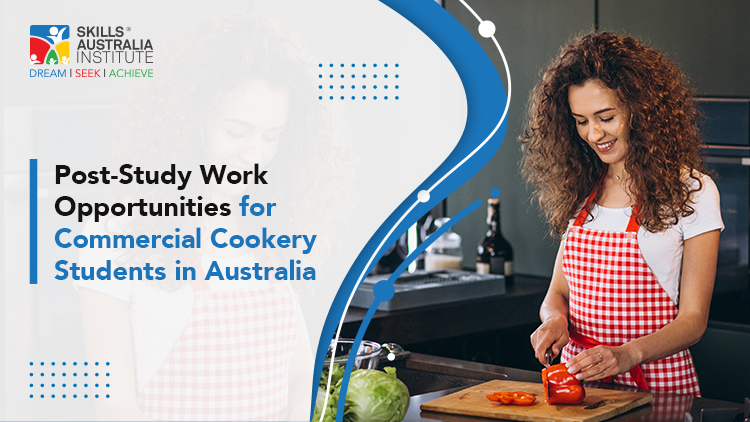 With the widespread increase in the hospitality industry in Australia, the country is attracting many natives as well as international students who are interested in pursuing their careers in the hospitality industry.
With the growth of the tourism industry, Australians have developed their taste buds by welcoming different styles and cultures of food, and the rise in the job opportunities in commercial cookery in recent years has shown positive results.
Aspire to become a successful chef in Australia and also want to know about the best post-study work opportunities for commercial cookery students in Australia? Read this article to get more information.
Is Commercial Cookery The Best Course For You?
Commercial cookery is the best course to do as it allows you to learn not just about the cooking techniques, but also the practical skills that will build your foundation to be ready to work efficiently in the hospitality industry.
Other than the advanced cooking techniques and restaurant managing skills, the education emphasizes on managing hefty tasks while matching with the fast pace growth of the industry. You get to learn the skills of multi-tasking with efficient communication skills with the blend of creativity to deal with last minute changes or obstacles.
What Courses You Can Choose To Study For Commercial Cookery in Australia?
As there are loads of job opportunities, there are different specialized cookery courses for international students as well as for natives to start your journey of learning. They are as follow:
1. Commercial Cookery Certificate IV (SIT 40516)
The certificate 4 in commercial cookery course is made for entrepreneurs who desire to manage their own kitchens with high-end skills and professional knowledge. A great benefit of this course is that it also covers the subject that will improve your business management skills, including, employee management, inventory and budget planning, etc.
2. Hospitality Management Diploma (SIT 50416)
The diploma in commercial cookery is crafted for the ones who aspire to study further after completing their certificate courses. The course has been developed to make the entrepreneurs understand the business work in the food industry.
The Objectives of Studying Commercial Cookery
There are so many advantages to studying commercial cookery programs in Australia, because of the popularity of the hospitality industry as well as the skilled professionals whom you will be taught. You will get to learn not just about cooking but will also learn different skills of management work, including, planning, preparing, organizing and presenting.
With a blend of theory with real-time practical training, you will be getting job opportunities at the same time to help you gain experience of the real world. You will be able to learn and work under admirable professionals to upskill your abilities to your full potential.
As the second most recommended country to study the commercial cookery programs in, Australia fosters tons of work opportunities for the natives as well as the international students. You can land your dream job in Australia with the right education and dedication towards your goal and that can bring you one step closer to your dream of getting a PR.
Some Best Post-Study Work Opportunities for Commercial Cookery Students in Australia
If your passion for cooking exceeds the long hours of hard work for the sake of providing nourishment with blended eloquence, then landing at your dream job would seem no worry for you. Work Opportunities for Commercial Cookery Students you can explore in your career of commercial cookery are listed down below.
1. Sous Chef:
Responsible for planning, managing, preparing to serve the delicies in the restaurants kitchens, hold a Sous Chef accountable. They are commonly known as the head chef's assistant or second in command, handling various duties including menu planning, new staff training, inventory recording very efficiently.
2. Head Chef:
The one who supervises everything that happens in a kitchen, without whom's permission there is no extra bean that can enter the kitchen, he/she is the one we call the head chef. Responsible for keeping the quality and standards in check, a head chef secures that the etiquettes are properly followed in the kitchen.
3. Executive Chef:
This place holds a highly skilled individual who looks up to the operations of the restaurant and ensures things to go smoothly. From conception to execution of the food it is the responsibility of the executive chef to ensure efficiency in the restaurant.
4. Restaurant Manager:
A restaurant manager's job includes managing employees, recruiting new employees, dealing with customer complaints while also helping in generating financial reports. Health and safety regulations are also a part taken care of by the restaurant manager.
5. Catering Manager:
A benefit of working in the hospitality industry is that you are not bound to any particular field, you can explore thousands of opportunities. If you have good management skills, you can explore your career options as a catering manager whose job is to plan events including banquets, weddings and other formal business functions. They also manage the food and other services as a part of their job.
Other than mentioned there are more options for you to explore your way after completing a Commercial Cookery Course in Australia.
Conclusion!
To bring yourself closer to success it is important to improve yourself while working towards your passion. With that said, the hospitality industry is widespread and holds a plethora of opportunities that will remain lifeless, until you develop an artistic sense to explore them.
If you possess an impeccable sense of taste with a growth mindset to work with full determination you can get your hands on your dream job with no effort.