Telecommunication courses
Telecommunication Courses in Australia: Why Should You Study There?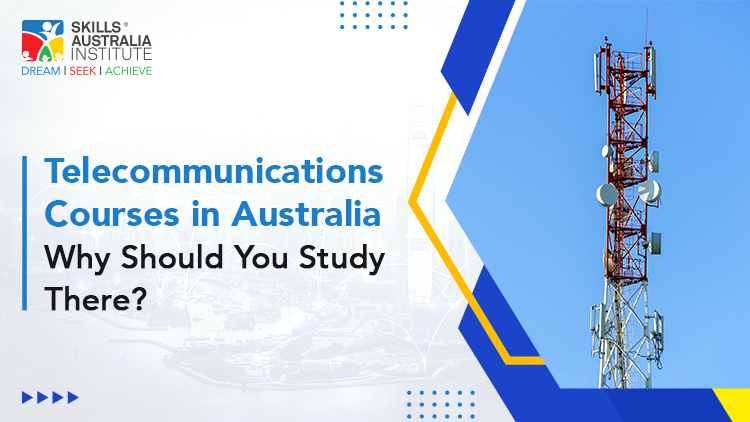 Telecommunications services help to boost work productivity while also lowering expenses related to the activity.
The facilities and technology required to offer telephone conversations and internet connectivity are provided by mobile phone network providers.
Telecommunication is most likely the most diverse and prosperous IT business that we utilize daily.
Even if we're not constantly mindful of it, satellite uplinks underpin nearly every aspect of our everyday lives: tv channels, GPS, weather predictions, personal internet connectivity, telemedicine, and so forth.
Why Must Anyone Make A Career In the Telecommunications Industry?
In developed nations, the telecom industry has now become the foundation for increasing human living standards.
This industry has changed beyond identification within the last 10 years, with customers' needs and competitive conditions evolving in a manner that very few could have foreseen.
The telecom sector is made up of companies that assist in making global data transfer possible, whether through the web, telephone, cabling, airways, wire, and wirelessly.
The network of these companies allows data to be transferred everywhere in the world via talking, text, audio, or visual.
The telecoms industry is expanding and addressing significant difficulties that consumers face every day and is an excellent way to contemplate a profession in the telecommunications industry.
ICT60220 – Advanced Diploma of Information Technology (Telecommunications Network Engineering)
This advanced diploma in telecommunications network engineering highlights the role of persons with extensive expertise in specific technical abilities, management business, and leadership abilities in a range of information and communications technology (ICT) professions.
People in these jobs do complicated duties in a specialized subject while working individually, managing a team, or directing a business's plan. They employ their abilities in a variety of sectors and company activities, or as a lone merchant.
Academic Prerequisites
Foreign students should be at least 18 years old and present evidence of Grade 12 or similar, and English Language Entrance Requirements: IELTS 5.5 (no less than 5.0 in whatsoever band); or comparable.
Every AQF achievement at the Credential III level or higher, offered and evaluated in English alone, will suffice to fulfil both the academics and English language admission criteria.
Additional entrance criteria:
Students should have accessibility to a functional computer or laptop that is configured to match study needs. Consider seeking the aid of your instructor on this matter.
The student should have access to a functional internet connection.
Students need to be able to take planned theory sessions as well as classes held in a virtual setting
The student must be well-versed in digital skills.
Students are required to complete their practice tests if they are necessary as completion of a unit of proficiency requirement.
Opportunities for Employment
Learners who finish this program could be able to find work in the telecom and information technology industries in positions such as:
Telecommunications network planner.
Network engineering technical officer.
Network security manager.
The administrator of a database.
Optical network designer.
Coordinator of Network Support
Analyst for Network Operations
Manager of a Telecommunications Network.
This curriculum is offered using competency-based training, which means that instead of grades or marking, learners must show all of the requirements for every competency standard and are labelled as "Proficient" or "Not yet skilled."
Sample questions, case analysis, role-playing, skill demonstrations, & work-placement exercises are common evaluation approaches.
The ICT60220 Advanced Diploma of Information Technology (Telecommunications Network Engineering) would establish the groundwork for candidates to progress to higher education courses in telecoms and information technology systems.
People in these jobs do complicated duties in a specialized subject while working individually, managing a team, or directing a business's strategic vision.
They apply their skills in a number of industries and business operations, or as a sole traders/contractor.
Why Should You Study in Australia?
This diverse country provides several opportunities for overseas students. Below are just some of the numerous reasons to consider attending college in Australia.
Cultural variety
Australia is a multicultural melting zone. The total quantity of cultures available allows you to not only move far outside your regular comfort bubble and try something different, and to feel at home in a multicultural context.
Excellent culinary selections, public international festivities, and the opportunity to learn a foreign language are some of the advantages of residing in a cosmopolitan environment.
Student visas are easily obtained.
If you need a student visa, Australia has a simple and effective way for Student Visa. It has the most uncomplicated ways.
For your request to be granted, you must fulfil certain standards, namely acceptance into an academic institution and adequate financial capability. You would also need to obtain enough healthcare coverage for the period of your residence.
Simple communication
Most overseas students can comprehend and be recognized since Australians use English. Nevertheless, mastering the lingo may take a while longer!
If you're having trouble keeping up with dialogue, ask somebody to clarify the jargon to you. The variants that Australians have kept coming up with will astound you.
Scholarships Available
Most foreign students, though not all, would like to school on scholarship money and gain jobs, and then when it pertains to that, Australia may be the first place to look.
In regards to luring foreign students, Australia is leading since it provides more funding possibilities and a lower cost of tuition.
Life Satisfaction
Australia is ranked second on the chart of finest places to live in terms of lifestyle. Its facilities, health services, educational excellence, job prospects, and society are among the greatest in the world.
Also, its environment and housing are impressive. It boasts minimal pollution levels and pleasant living circumstances.
Conclusion!
Hence, why should you go to study telecommunications courses in Australia? We believe this article has covered almost all you need to learn about learning in this amazing nation for telecom courses.
In Australia, the telecom sector has begun to replace conventional energy sources using renewable power.
This is a significant step forward for the business since it combats rising environmental issues, reduces reliance on fossil fuels & carbon dioxide emissions, and assures that equipment is durable and can run during natural catastrophes.