Construction
Your Ultimate Guide to Start a Successful Bricklaying Business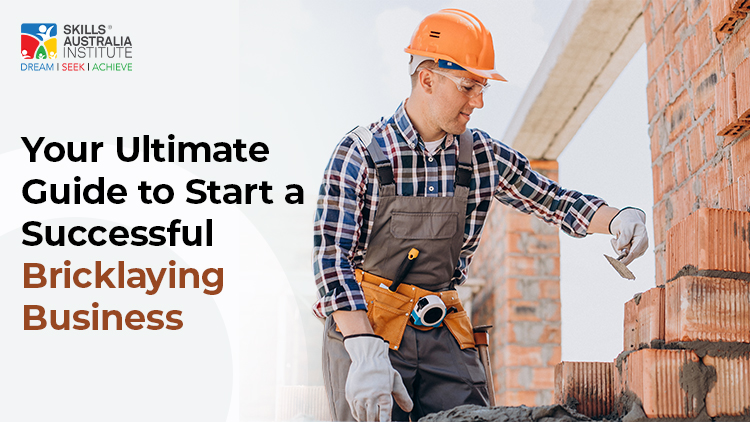 Bricklaying is the art of skillfully placing bricks in a predetermined pattern to create walls, buildings, and other structures. It has been used for millennia and is a key building method. Bricks are joined together by bricklayers using mortar, guaranteeing stability and endurance. To start a bricklaying business, one needs a bricklaying certificate, precision, meticulousness, and an understanding of structural integrity. Bricklayers frequently produce complicated patterns and decorations to display their expertise. Physical power, manual dexterity, and an artistic sense are prerequisites for this age-old profession. Let us now understand how one can start a bricklaying business and what skills one requires to start this business.
How to Start a Bricklaying Business?
Starting a bricklaying business in Australia involves several steps. Here's a general guide to help you get started:
Gain Experience and Qualifications:
Formal training or an apprenticeship in a blocklaying course will help you gain knowledge and develop practical skills.
Gain practical experience by working for an established bricklaying company or contractor. This will help you understand the industry and learn about different techniques and practices.
Some colleges in Perth, Adelaide and Cannington provide Certificate iii in bricklaying and blocklaying.
Develop a Business Plan:
Create a comprehensive business plan that outlines your goals, target market, pricing strategy, marketing plan, and financial projections.
Research the local market and competitors to identify opportunities and potential challenges.
Register Your Business:
Decide on a suitable business structure, such as a proprietorship or company.
Register the name of your business with the Australian Securities and Investments Commission (ASIC) if you're operating under a name other than your own.
Obtain the necessary licenses and permits required by your state or territory. Check with the local authorities or business registration websites for specific requirements.
Set Up Your Finances:
Open a separate business bank account so you can keep your business finances separate from your personal ones
Have a word with your accountant to make sure you understand your tax obligations and set up appropriate bookkeeping systems.
Consider getting insurance coverage for your business, such as public liability insurance, to protect against potential risks.
Purchase Equipment and Tools:
Invest in high-quality bricklaying tools like trowels, levels, jointers, and safety equipment.
Purchase a reliable vehicle to transport yourself and your equipment to job sites.
Build a Network:
Establish relationships with suppliers to ensure a steady supply of materials at competitive prices.
Network with other construction professionals, such as builders, architects, and contractors, to create potential business opportunities.
Market Your Services:
Create a professional website showcasing your bricklaying services, portfolio, and contact information.
Utilize online platforms and social media to promote your business and connect with potential clients.
Join local business associations and attend industry events to expand your network.
Provide Excellent Service:
Deliver high-quality workmanship and exceptional customer service to build a solid reputation.
Maintain effective communication with clients, addressing their concerns and ensuring their satisfaction.
Ask satisfied clients for testimonials or referrals to attract new customers.
Market your Business:
A solid strategic marketing plan will enable you to choose the best advertising strategy to reach your target audience.
You may want to launch a social media profile or place an ad in your neighbourhood newspaper.
Word-of-mouth advertising is another easy and efficient strategy for attracting new clients.
Even for businesses in the construction industry, having an internet presence is crucial.
To secure the safety of your clients, you also need to set up and manage a website, which requires you to consider any website terms and conditions.
Get Insurance:
One of the most crucial aspects of starting a business is getting insurance.
Accidents can occur when laying bricks, and taking all precautions to defend your person and company in court is necessary.
This will be useful for employee and client accidents and any property damage claims.
To safeguard against loss, damage, or theft, you will need some kind of coverage for your equipment.
Remember to comply with your area's relevant regulations, safety standards, and building codes. It's advisable to consult with professionals such as lawyers, accountants, and business advisors to ensure you meet all legal requirements and make informed decisions for your bricklaying business.
Skills Required for Starting a Bricklaying Business:
Are you wondering How to start a bricklaying business? To run a successful bricklaying business, you'll need a combination of technical skills, business acumen, and interpersonal abilities. Here are some essential skills required for a business in bricklaying:
Bricklaying Techniques:
A strong foundation in bricklaying techniques is crucial. This includes knowledge of different brick types, mortar mixing, laying courses, jointing, levelling, and aligning walls. Develop expertise in various bricklaying methods, such as solid brickwork, cavity wall construction, and brick veneer.
Construction Knowledge:
Understand construction principles and practices beyond bricklaying. Familiarize yourself with building codes, regulations, and standards related to brickwork. This knowledge will help you coordinate effectively with other tradespeople and ensure compliance with structural requirements.
Time Management:
Efficient time management is essential to complete projects within deadlines. Plan and organize your work to maximize productivity, coordinate with suppliers and clients, and schedule tasks effectively.
Problem-Solving:
Bricklaying often involves encountering unforeseen challenges. Develop problem-solving skills to overcome issues such as uneven surfaces, weather conditions, and structural adjustments. Be resourceful and find creative solutions to ensure quality workmanship.
Communication:
Effective communication is essential to interact with clients, suppliers, subcontractors, and other stakeholders. Clear communication ensures that expectations are understood, instructions are conveyed accurately, and issues are resolved promptly.
Estimation and Pricing:
Develop the ability to accurately estimate materials, labour costs, and project timelines. Understanding pricing strategies, profit margins, and competitive market rates will help you provide accurate quotes and remain financially viable.
Business Management:
Acquire business management skills to handle various aspects of running a business, such as financial management, marketing, customer service, and record keeping. Develop a basic understanding of accounting, budgeting, and business planning.
Health and Safety:
Prioritize safety in your work practices and ensure compliance with occupational health and safety regulations. Familiarize yourself with safe work procedures, use appropriate personal protective equipment (PPE), and promote a safe working environment for yourself and your employees.
Customer Service:
Providing exceptional customer service is essential for client satisfaction and building a positive reputation. Develop strong interpersonal skills, listen to client requirements, offer professional advice, and address any concerns promptly and professionally.
Adaptability and Learning:
The construction industry is constantly evolving. Stay updated with the latest bricklaying techniques, tools, and materials. Continuously seek opportunities to learn and improve your skills to meet industry standards and client expectations.
Conclusion
Developing a successful bricklaying firm takes careful planning, perseverance, and a solid base of technical expertise. We hope this comprehensive manual has given useful insights into the essential procedures, from obtaining the required credentials and licenses to developing a strong company plan and marketing strategy. Aspiring bricklaying entrepreneurs may put themselves on a path to creating a successful and lucrative business in the construction sector by heeding the advice and suggestions provided in this article.