Commercial Cookery
Five Most Important Cooking Skills Taught In Culinary Schools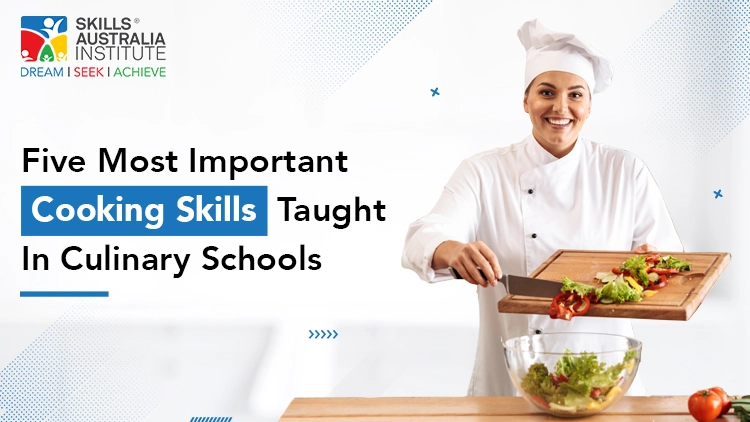 Cooking is not just restricted to homemakers. Today, cooking is considered as a very rewarding profession. In Australia, the hospitality industry has an annual growth rate of about 14% and more growth is expected in the coming years. Industry experts have assumed that there will be about 80,000 new job openings for good cooks.
One of the best parts about being a cook is that one gets to earn a good amount. The average income for a cook in Australia is over $60,000 per year or $29.36 per hour depending on ranks. The starting wage for new employees is $48,757 per year. On the other hand, seasoned staff gets a payment of up to $68,250 per year. Apart from the salary, there are also tips, bonuses, and perks.
To become a professional cook, one needs to study a commercial cookery course. There are several culinary schools where students can study different types of culinary courses. In such a course, one gets to learn about the art, science, and craft of preparing food for consumption. Not just the culinary skills, one also gets to learn about how to motivate and lead kitchen teams, identify and solve operational and service issues, plan food production and schedule workflow.
5 Most Important Cooking Skills Taught In Culinary Schools:
Skill No-1: Knife Skills
Undoubtedly, the most important tool in a kitchen is the knife. Without a knife you will not be able to complete any work related to cutting and chopping. This is why in any professional culinary course, knife skills are given due importance. In fact, this is one of the basic skills that a student must learn.
For anyone who is interested in making a career in this highly challenging industry, it is very important to have a good understanding of knife skills. Having good knife skills not only help ensure safety in the kitchen but also a good final result in the form of a high quality dish.
When it comes to knife skills, a culinary student is taught the importance of having a good quality knife and how to maintain the sharpness of a knife. Some of the basic knife skills taught at a culinary school are how to hold a knife properly, chopping, dicing, slicing, cutting, mincing and how to chiffonade and julienne.
Knife skills are something that one cannot learn in a day. Over time one gets to develop accuracy, speed, and eventually become an expert. Proper knife skills will not only make your work in the kitchen faster and easier but at the same time safer too.
Skill No-2: Sauce Skills
In the culinary world, sauce making is an important and treasured art. A sauce is used to flavour, season and enhance the taste of a dish. A sauce also adds moistness, richness, appearance, shine and an appetite appeal to food.
There are different types of ready-made sauces available in the market, but a good chef is one who can make a sauce from the stretch. Making sauce and pairing it with food is technical expertise that needs to be learned. It can be learned only after having knowledge about food anatomy including texture, flavour, and appearance. Right from measurement to essential ingredients to the required techniques for making the perfect sauces are taught in culinary schools.
This is why in any culinary course; one important skill taught to the students is the art of making world-class sauces. Here the art of making different types of sauces for salad dressings, dips and spreads is taught.
Skill No-3: Cooking With Herbs And Spices
In the culinary field, a good chef is one who can cook that 'something special'. To make a dish from ordinary to extraordinary, one must have proper knowledge of herbs and spices. Herbs and spices help add flavor, color, and fragrance to dishes without adding extra fat, sugar, or salt.
This means the right use of herbs and spices is useful in preparing special diets such as low salt and low fat diets. They also provide powerful antioxidants, and have a range of other health benefits!
If you want to make a name for yourself in the culinary field, you can gain knowledge about herbs and spices from a culinary school. In most of the culinary schools, students are taught about fresh herbs, dried herbs as well as about the use of different spices. Students get to know how herbs and spices are added and combined to any dish that can make a lot of difference.
Apart from the correct usage of herbs and spices, students are also taught about how to store them properly. Right storage technique helps lengthen their shelf life and maintain their flavour.
Skill No-4: Different Cooking Methods
No matter how good you are at cooking in your home kitchen, things are very different in professional kitchens. Here no single method of cooking is used. In a restaurant, a chef needs to prepare different types of foods and those too using different types of cooking methods.
Understanding and mastering the different types of cooking methods is essential to becoming a good chef. Knowledge of different cooking methods will allow you to work with different ingredients and equipment to make outstanding and mouth watering dishes. Also, the right cooking technique is essential to get the maximum nutritional value of meal. It is the duty of a chef not to waste the nutrients in a food.
The knowledge of various cooking methods is taught in culinary schools. Some of the important cooking method skills taught in most of the culinary schools are grilling, broiling, roasting, stewing, steaming, deep frying and sautéing to name a few.
Skill No-5: Knowledge About Nutritional Science
Today people do not just eat food to satisfy their taste buds. Food is consumed to remain healthy and hence chefs are expected to use high-quality foods and thorough preparation techniques. When cooked from a nutritional point of view, food may contribute to providing certain nutrients and make one healthy.
To prepare healthy and cater to the demand of different consumers, it is important to have adequate knowledge about nutritional science. In any reputed culinary school, students need to study nutritional science and how food can impact one's health.
In nutritional science, one gets to know about the nutritional components of different ingredients and how one can shift away from unhealthy foods and move towards healthier options. Additionally, with the rise of food allergies and the recognition of gluten-free options, it is important for a chef to remain updated.
Conclusion
To learn about the above-mentioned five important culinary skills, choose the right culinary course and the right colleges in Adelaide, Australia. These important skills cannot be learnt in your own kitchen as there are many tips and tricks that only industry experts can tell you. Always bear in mind that home and commercial kitchens are very different environments and doing a culinary course will make a lot of difference in your career.